Try this monkey bread recipe made from scratch and give cinnamon rolls a run for their money! Little bubbles of bread are coated in butter, cinnamon, and sugar. Crisp and caramelized on the outside but soft inside, this pull-apart bread is delicious breakfast or dessert!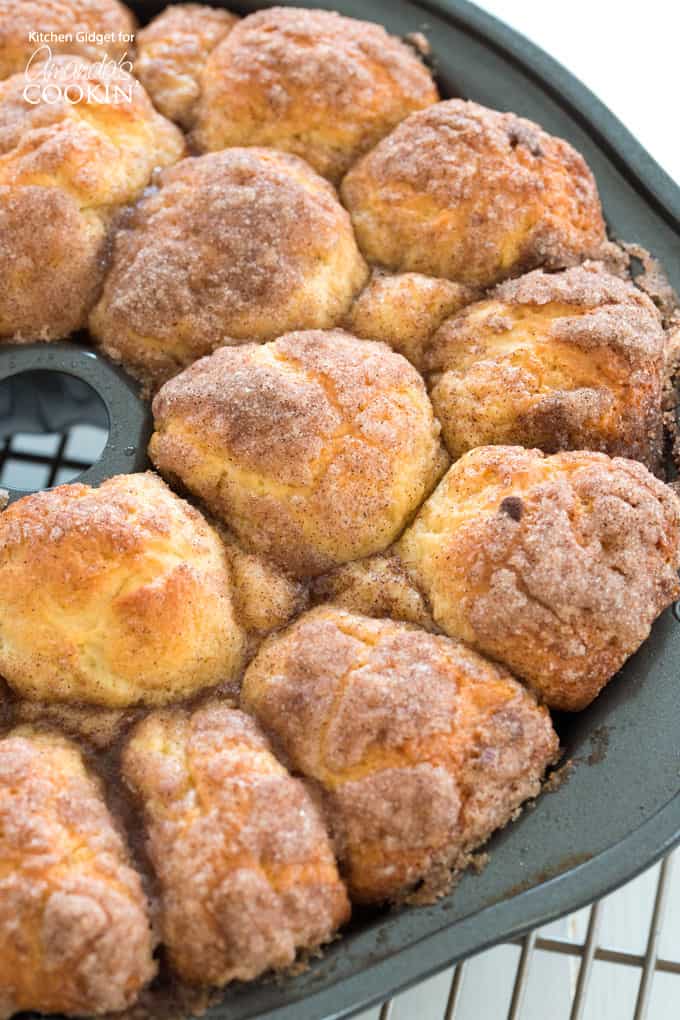 Monkey Bread
When is the last time you had monkey bread? Do you like the crispy outer pieces of bread or the gooey middle?
If you've never had monkey bread then you are in for a treat! Monkey bread is made by dipping balls of yeasted dough in butter and cinnamon sugar. The dough balls are placed in a Bundt pan to bake and the result is a sticky ring of pull-apart bread. It tastes heavenly when warm from the oven.
Monkey bread is one of my family's favorite recipes of all time! We call it "bubble bread" due to the round cinna-bubble balls. From the first time we tried it, we were all hooked. We enjoy making the dough and dipping the balls in butter and cinnamon sugar together as a family, and we definitely all enjoy eating it!
This is a great recipe to get kids involved in the kitchen or to serve for breakfast on special occasions.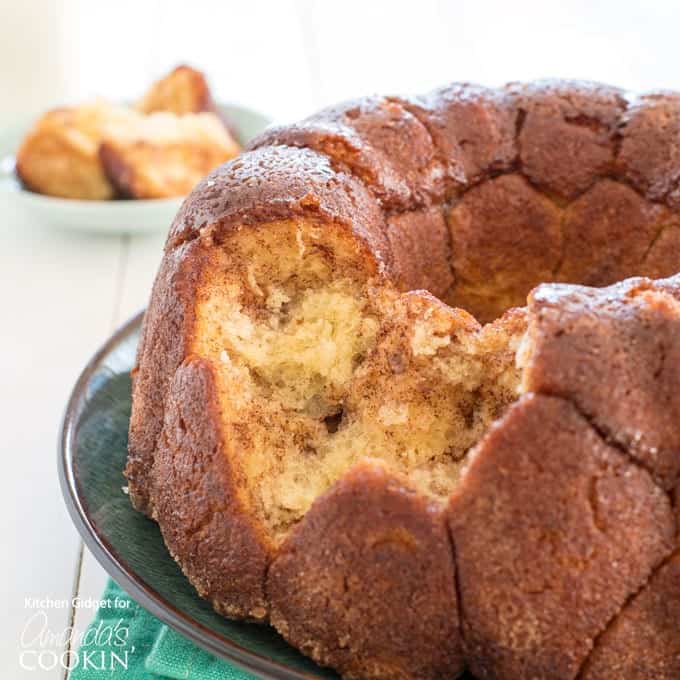 Most times this is something we whip up when we're all hanging out and have a hankering for something sweet to eat. Does your family have any favorite "midnight snacks"? Pineapple Empanadas are another favorite (and they're quick), or Bacon Fried Rice if we want something savory.
This recipe involves yeast, but it's simple, so don't be intimidated if yeast dough is not your friend. The dough is so soft you don't even need an electric mixer to mix it up. In fact, be careful not to over mix the dough or it can become tough and hard.
This recipe also calls for scalded milk. This is when milk is heated to just before the boiling point, about 180°F. Take care to stir often whether using a stove or microwave so it doesn't burn. Scalding milk breaks down the proteins for a soft dough and the warmth will also activate the yeast.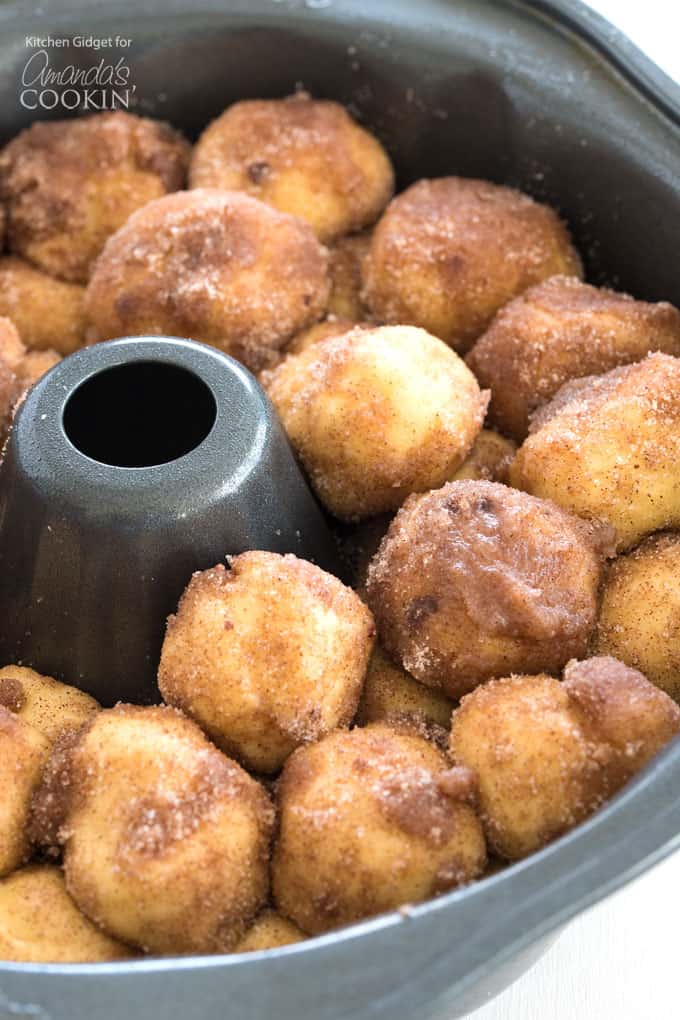 Ingredients you will need
For the dough:
1 cup scalded milk
1/2 cup vegetable oil
1/2 cup sugar
1 teaspoon salt
2 packages active dry yeast
2 large eggs
4 1/2 cups all-purpose flour
For the coating:
1/2 cup butter
1 cup sugar
1 tablespoon cinnamon
1/2 cup chopped nuts or raisins (optional)
Helpful kitchen tools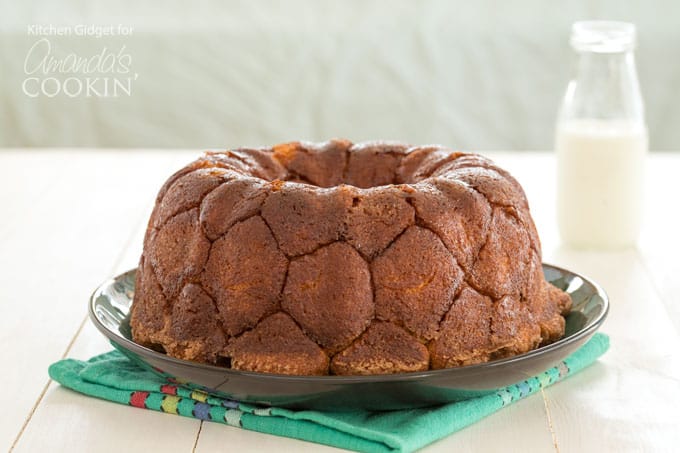 Let the dough rise once, then punch down and form into little balls. They should be very small since they will rise again. About 1 or 1.5 inches is a good size. You'll end up with about 50-60 pieces. Dip each ball in melted butter, then in cinnamon-sugar. I usually do several balls at a time. At this point, you can also add chopped nuts or raisins. They may not stick to the dough, but you can sprinkle them in as you layer the dough in the pan.
Stagger the balls in a bundt pan, and distribute any leftover butter or sugar over the top. Don't want to waste any of that goodness! Let rise for a second time until puffy and then bake. Start checking the bread as it nears the end of the cooking time so you don't over-do it.
Monkey bread should be soft and gooey, but crisp and caramelized on the outside. I usually pull up a few dough bites to see if it's cooked in the middle.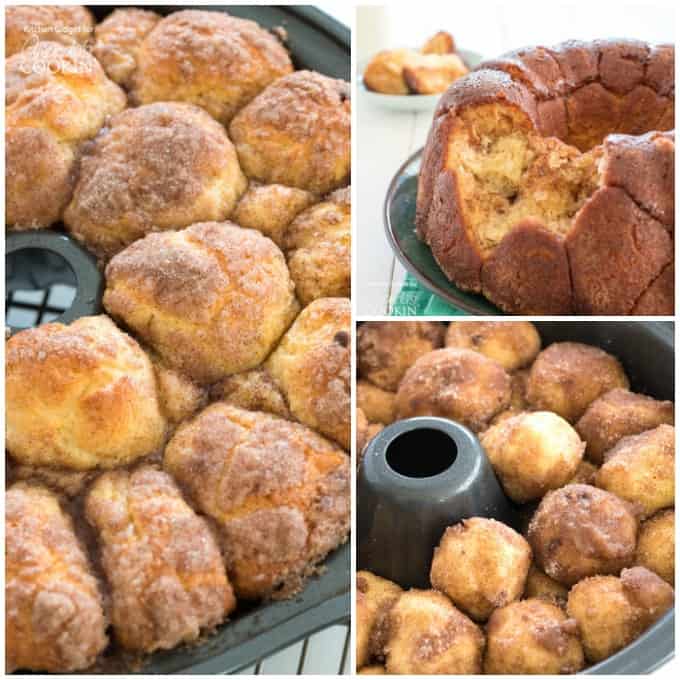 Let the monkey bread cool for 5 minutes in the pan, then invert onto a serving plate. Ta-da! You now have the most delicious monkey bread from scratch. Enjoy!
This monkey bread recipe is permanently on my favorite cake, rolls, and buns list along with this mouth-watering Blueberry Breakfast Cake and these Cranberry Cream Cheese Pastries.