This post brought to you by Truvia® Natural Sweetener. All opinions are 100% mine.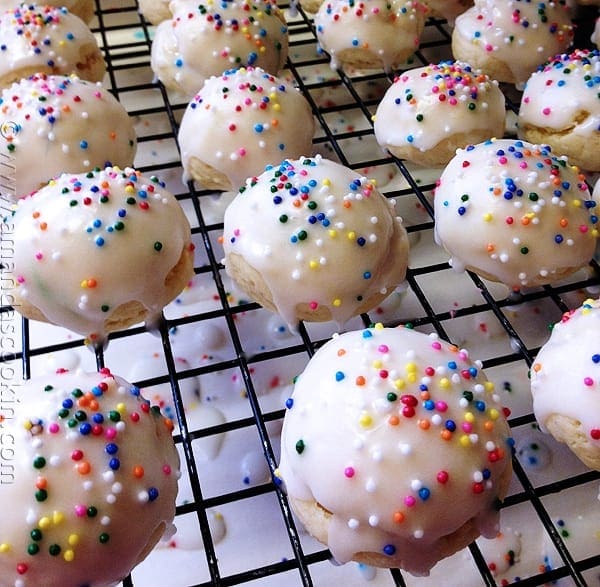 I'll never forget the first time I made these cookies. My father in law was staying with us at the time and he was sitting in the living room watching TV, secretly waiting to see what I was baking in the kitchen. When I brought a few out to him he was excited. He went on to tell me that his grandmother used to make these, but because he didn't like the taste of licorice, she used almond extract instead.
What an amazing coincidence! I knew he didn't like licorice, in fact I think I'm the only one in the house who does. So instead of anise extract I chose to use a combination of vanilla and almond extracts instead. I posted about these Italian Anisette Cookies back in 2008. I've made them every Christmas since then and they were always a hit.
But I love licorice. I've always wanted to try them with anise, so when Truvia® challenged me to bake once of my favorite recipes and substitute Truvia® for the sugar, I decided this was as good a time as any! Truvia® Baking Blend has 75% fewer calories and twice the amount of sweetness than sugar.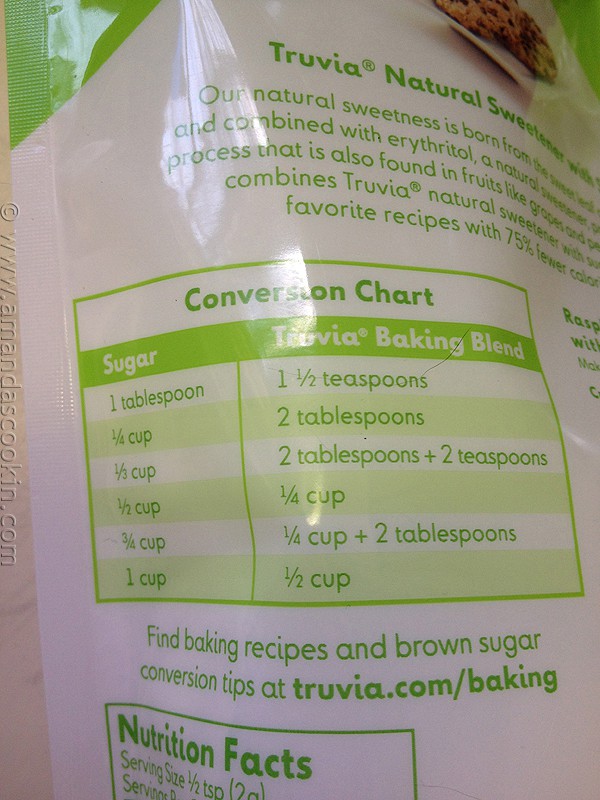 Truvia® is a blend of Truvia® natural sweetener and sugar. As you can see from the back of the bag, it's easy to switch out the sugar in a recipe and use the Truvia® Baking Blend. it has sugar-like texture and moistness and bakes and browns like recipes that are made with sugar.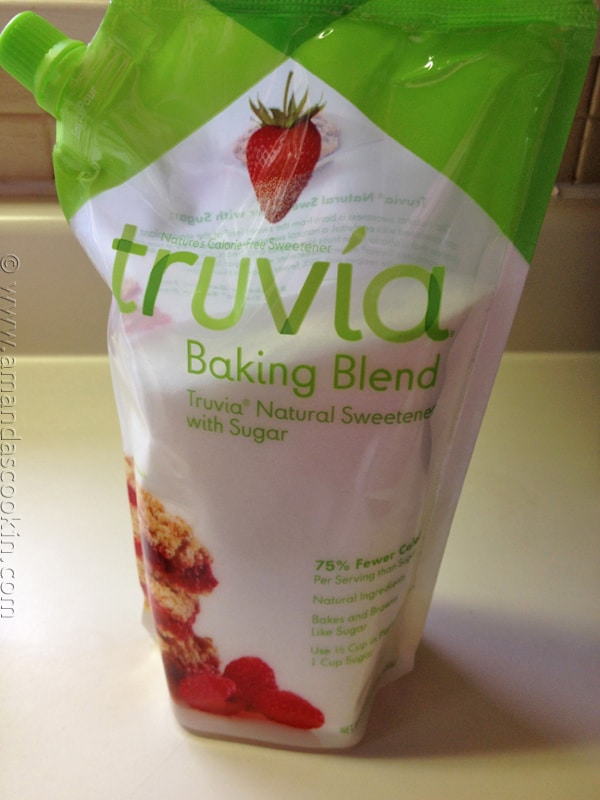 Truvia® Baking Blend is available at retail stores nationwide in a 1.5 pound bag with a closeable, easy-to-use pour spout. You may have noticed in the chart on the back of the bag that you will use less Truvia® than you would sugar. One 1.5 pound bag of Truvia® Baking Blend has equivalent sweetness to 3 pounds of sugar, which is approximately 7 cups – enough to make 13 pies, 9 batches of cookies or 6 batches of brownies. Visit the Truvia® website for more tips and information on Truvia® Baking Blend
Challenge Results
Amazing. Really! Could not tell the difference at all. They baked up beautifully and tasted just as good as I remembered them. So if you are looking for a lower sugar alternative, take a look at Truvia® (hint, check out the giveaway below!).
This is a super simple recipe that yields beautiful results. Don't you agree that there's something magical about nonpareils? Whenever you use them, people oooooh and aahhhhh. It's magic.

First melt the butter and shortening together, then whisk in the Truvia®. Whisk in the eggs, one at a time, whisking well. The mixture will be nice and silky. Add the extract then the dry ingredients.

You'll have a nice soft dough. If it's too sticky to roll, add small amounts of flour until it can be rolled in the palm of your hand. But be careful, don't overdo it or you'll dry out your cookies. Use a cookie scoop, the best measurement is half full. Roll and place on parchment lined insulated baking sheets.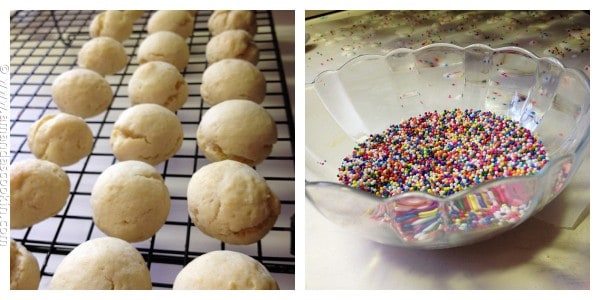 Bake them for 6-8 minutes. 7 minutes was perfect for mine. Don't worry if they are a little cracked, you're going to glaze them anyway! Mix up the glaze and dip the tops of the cookies in. Do about 5 at a time, then sprinkle with nonpareils. Doing 5 at a time gives you enough time to sprinkle before the glaze begins to harden.
The Giveaway
So would you like to give Truvia® Baking Blend a try? How about a giveaway? One lucky winner will receive a $25 gift card to the grocery store of their choice!
Rules
Must be 18 years or older, have a United States shipping address, and enter no later than December 16, 2012. See official contest rules.
To Enter
Leave a comment on this blog post stating what holiday cookie/dessert you are most excited to try re-creating using Truvia® Baking Blend.
Good luck!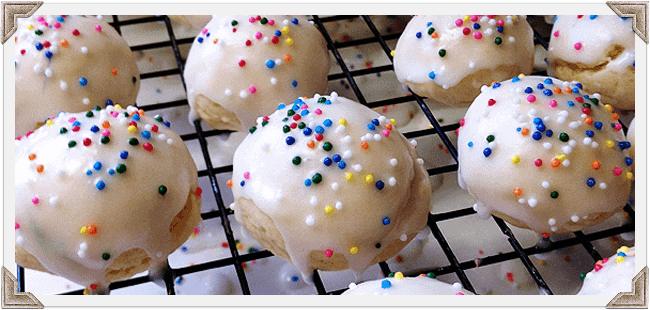 Ingredients
1/2

cup

unsalted butter

1/4

cup

shortening

1/4

cup

plus 2 tablespoons Truvia® Baking Blend

4

eggs

3

cups

all-purpose flour

5

teaspoons

baking powder

1/2

teaspoon

salt

2

teaspoons

anise extract

can use vanilla or lemon extract instead
Glaze:
2

cups

confectioners' sugar

sifted

2-4

tablespoons

milk
Instructions
Preheat oven to 375 F.

Melt butter and shortening together. Add the Truvia® Baking Blend; mix well. Add the eggs, one at a time, beating well after each addition. Mix in the anise extract.

Sift or whisk together flour, baking powder and salt. Add to creamed mixture gradually. If the dough is too sticky to roll in the palm of your hand, add flour until firmer, but it should be very soft. Roll dough in small ballsand place on parchment lined insulated baking sheets.

Bake for 6-8 minutes (the bottom should be lightly browned but the tops should remain light). Remove cookies to wire rack and cool completely before glazing.
Glaze:
Add 2 tablespoons of the milk to the confectioners' sugar. Add small amounts of milk until you have a thick glaze This is usually 3 tablespoons for me. Keep it on the thick side. Dip top of each cookie into glaze. Sprinkle with colored jimmies or nonpareils while glaze is still wet. Dip and sprinkle 5 at a time, that seems to be the magic number before the glaze begins to set.
Amanda Formaro is the crafty, entrepreneurial mother of four grown children. She loves to bake, cook, make kid's crafts and create decorative items for her home. She is a crafting expert and guru in the kitchen and has appeared online and in print publications many times over the years. She is also a craft book author five times over and product developer as well as the owner of
FunFamilyCrafts.com
. You can find her on social media by using the buttons to the left!
Latest posts by Amanda Formaro (see all)