Next week's Tuesday with Dorie is a recipe for Chocolate Amaretti Torte. One of the main ingredients are amaretti cookies. Unfortunately, I couldn't find these cookies anywhere, but that's what you get when you live in rural America. ;) I really wanted to make the torte, so instead of passing I decided to google a few recipes to make the cookies myself. I did find quite a few, but settled on one from Martha's site.
Since Dorie's recipe called for a specific number of the store bought cookies, I asked her if she would be able to give me a weight to go by. She said that I needed 2.75 ounces. While the torte recipe (coming next week!) called for 6 large cookies, I ended up using 4 of mine.
I also had to laugh. Martha's recipe for these cookies said it would yield 30 cookies. I looked at my cookie sheets and counted about 18. Hmmmm.  Scratching head. Looked at the recipe again and it says to measure dough by TEASPOONFULS, I used tablespoons! Ha ha!
ALSO, important note if you use this recipe in Dorie's torte in place of the store bought amaretti:  Dorie stated that the cookies need to be dry and crumbly. Therefore, instead of using 4 full cookies, I ended up measuring and weighing out the edges of the cookies that I broke off. The center of these cookies were still chewy. Now I think that was probably because I made them much bigger than they were supposed to be. :-/
Note: I did not include the amaretto, I just doubled the almond extract. :) Oh one last thing, I blanched my own almonds! :)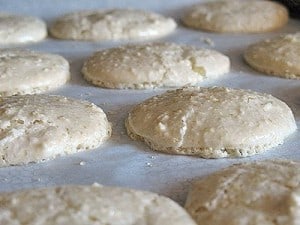 Ingredients
1 1/4

cups

whole blanched almonds

1 1/2

teaspoons

cornstarch

1/2

cup

confectioners' sugar

2

large egg whites

Pinch

of kosher salt

1/3

cup

plus 2 tablespoons granulated sugar

1/2

teaspoon

almond extract

1

tablespoon

amaretto

1/2

cup

turbinado sugar

for sprinkling

Preheat oven to 300 degrees.
Instructions
Place almonds, cornstarch, and confectioners' sugar in the bowl of a food processor; pulse until almonds are very finely chopped.

Place egg whites in the bowl of an electric mixer fitted with the whisk attachment. Add salt and beat on medium speed until foamy and light. Gradually add granulated sugar in a slow, steady steam and continue beating until stiff and glossy. Beat in almond extract and amaretto.

Using a rubber spatula, gently fold in ground almond mixture. Drop heaping teaspoonfuls of batter onto parchment paper-lined baking sheets. Sprinkle each cookie generously with turbinado sugar.

Transfer to oven and bake until cookies are pale golden and begin to crack slightly, about 15 minutes. Reduce oven temperature to 200 degrees. Leave oven door ajar to release some of the heat. Let cookies stand in oven until completely dry and crisp, 25 to 30 minutes more. Let cookies cool briefly on baking sheets, before transferring to a wire rack to cool completely. Store in an airtight container up to 3 days.
Amanda Formaro is the crafty, entrepreneurial mother of four grown children. She loves to bake, cook, make kid's crafts and create decorative items for her home. She is a crafting expert and guru in the kitchen and has appeared online and in print publications many times over the years. She is also a craft book author five times over and product developer as well as the owner of
FunFamilyCrafts.com
. You can find her on social media by using the buttons to the left!
Latest posts by Amanda Formaro (see all)