Often known as Lava Cake, these little individual desserts are just oozing with chocolate-y goodness.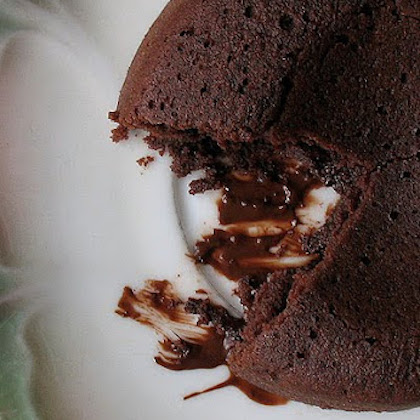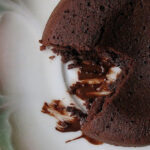 This week, Rachelle of Mommy? I'm Hungry! chose Soft Chocolate and Raspberry Tart for Tuesdays with Dorie. Unfortunately I ran out of time and ingredients I didn't have 3 key things, plus if I did make this, no one here would have eaten it except for me. :( I'm sorry Rachelle! I'm sure it was yummy and can't wait to see how it turned out for you :)
I didn't want to skip this week altogether, so I decided to take a look at the previously baked recipes that I missed before joined TWD. I was hoping for something fairly fast, and something that I wouldn't have to shop for. These Gooey Chocolate Cakes were the perfect choice! These were chosen very close to the beginning of the group and are similar to the famous Molten Lava Cakes.
I did google and find some of the TWD bakers from back then and a few of them said that their cakes weren't quite as gooey as they expected. Mine weren't either, but I think I know why. Dorie comments in the recipe that this type of recipe is normally baked in ramekins but that she never seemed to have quite the right sized ones on hand. She suggested using an aluminum disposable 6 cup muffin pan and said they were the perfect size. Well, that would have involved a trip to the store, so I opted for the ramekins instead.
Now the ramekins worked perfectly, but I see what Dorie meant, I think they were a bit too big, therefore I probably should have gone with 5 of them instead of 6. You can see that the chopped chocolate, after being sprinkled on top, melts just enough…
Then you let them rest a few minutes, then invert…
The use a spatula to move them to serving plates. You can leave them plain, or add a little chocolate sauce or ganache drizzle. Maybe dust them with confectioner's sugar or garnish with fresh berries!
Regardless, they were delicious and everyone liked them, and they are GONE. These are a perfect after dinner dessert. You could really throw these together, from start to finish, in about 30 minutes or so.
I'll definitely make these again, either with the suggested pan, or in 5 ramekins. :)
Happy Tuesday!
Gooey Chocolate Cakes
Baking: From My Home to Yours
(pages 261-262)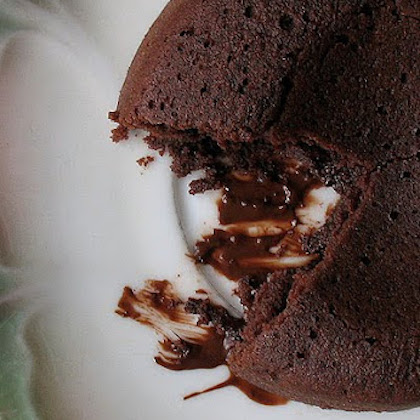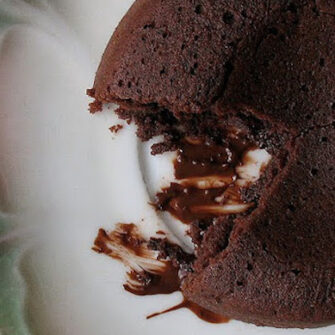 Gooey Chocolate Cakes
Often known as Lava Cake, these little individual desserts are just oozing with chocolate-y goodness.
Print
Rate
Ingredients
1/3

cup

all-purpose flour

3

tablespoons

unsweetened cocoa powder

1/4

teaspoon

salt

5

ounces

bittersweet chocolate

-4 ounces coarsely chopped

-1 ounce very finely chopped

1

stick

8 tablespoons unsalted butter, cut into 8 pieces

2

large eggs

at room temperature

1

large egg yolk

at room temperature

6

tablespoons

of sugar
Instructions
Getting ready: Center a rack in the oven and preheat the oven to 400 degrees F. butter (or spray – it's easier) 6 cups of a regular-size muffin pan, preferably a disposable aluminum foil pan, dust the insides with flour and tap out the excess. Put the muffin pan on a baking sheet.

Sift the flour, cocoa and salt together.

Set a heatproof bowl over a saucepan of gently simmering water, put the coarsely chopped chocolate and the butter in the bowl and stir occasionally over the simmering water just until they are melted – you don't want them to get so hot that the butter separates. Remove the bowl from the pan of water.

In a large bowl, whisk the eggs and yolk until homogenous. Add the sugar and whisk until well blended, about 2 minutes. Add the dry ingredients and, still using the whisk, stir (don't beat) them into the eggs. Little by little, and using a light hand, stir in the melted chocolate and butter. Divide the batter evenly among the muffin cups and sprinkle the finely chopped chocolate over the batter.

Bake the cakes for 13 minutes. Transfer them, still on the baking sheet, to a rack to cool for 3 minutes. (There is no way to test that these cakes are properly baked, because the inside remains liquid.)

Line a cutting board with a silicone baking mat or parchment or wax paper, and, after the 3-minute rest, unmold the cakes onto the board. Use a wide metal spatula to lift the cakes onto dessert plates.
Amanda Formaro is the crafty, entrepreneurial mother of four grown children. She loves to bake, cook, make kid's crafts and create decorative items for her home. She is a crafting expert and guru in the kitchen and has appeared online and in print publications many times over the years. She is also a craft book author five times over and product developer as well as the owner of
FunFamilyCrafts.com
. You can find her on social media by using the buttons to the left!
Latest posts by Amanda Formaro (see all)