I somehow ended up on Martha's site the other day looking for recipes on the grill. Yes, yes, I know it's fall people, but I love my grill and use it whenever I can, even in the snow! I printed off oodles and oodles of different recipes, but settled on this mouth watering marinated chicken as my first pick. I am so very glad that I did! Not only did I savour every morsel at dinner that night, I had it for lunch the next two days and used the rest to make a chicken salad. This marinade is so simple it's almost embarrassing. With only four ingredients this marinate gives the chicken an amazing flavor that you will absolutely love.
I will admit though, after cooking from Julia Child's book, Mastering the Art of French Cooking, I've learned a few things. One of those lessons include drying off the meat before cooking it, and if marinated, to wipe off the excess marinade first. Other than that, Martha's instructions are pretty much dead on. Instead of oiling the grates of my grill, which has melted a few brushes in the past, I brush a little olive oil on the dried chicken so it won't stick. I also marinated my chicken in the refrigerator most of the day, and then an hour and a half before cooking it, I placed it on paper towels and brought it to room temperature.
As for the potatoes, I've also learned to dry those, so after patting them dry they went into the foil packet as described below. I was really surprised at how perfect they were!
Try this. You'll thank me. And when the snow flies, just keep a shovel near the door and scoop a path to your grill like I do ;)
Garlic-Marinated Chicken Cutlets with Grilled Potatoes
(I halved this recipe)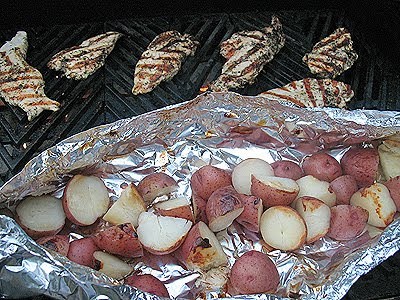 Ingredients
3

pounds

baby red new potatoes

halved or quartered if large

2

tablespoons

olive oil

plus more for grates

6

garlic cloves

minced

1/4

cup

white-wine vinegar

3

tablespoons

fresh thyme leaves

chopped, plus sprigs for garnish, if desired

Coarse salt and ground pepper

3

pounds

chicken cutlets

about 12

1

tablespoon

butter

Grilled asparagus

cut on the diagonal into 1 1/2-inch pieces (3 cups)

2

tablespoons

Vinaigrette
Instructions
Heat grill to medium. Fold two 4-foot-long sheets of aluminum foil in half to make two separate double-layer sheets. Place half the potatoes on each double layer. Form two packets, folding foil over potatoes and crimping edges to seal. Place on grill and cook, turning over once, until potatoes are tender, about 25 minutes. Remove from heat. Leave potatoes from one packet wrapped in foil to keep warm. Open second packet to let potatoes cool; reserve for Potato Salad. Raise grill to high; lightly oil grates.

Meanwhile, make marinade: In a large baking dish, whisk together oil, garlic, vinegar, thyme, 1 teaspoon salt, and 1/2 teaspoon pepper. Add chicken; turn several times to coat. Let marinate at room temperature 10 minutes and up to 30 minutes.

Lift chicken from marinade and grill until browned and cooked through, 2 to 3 minutes per side. Remove from grill. Cover half of chicken with foil to keep warm. Reserve other half for Grilled Chicken Cobb Salad.

Remove warm potatoes from foil; transfer to a medium bowl, toss with butter, and season with salt and pepper. In a medium bowl, toss asparagus with Vinaigrette. Serve the grilled chicken with potatoes and asparagus. Garnish with thyme sprigs, if desired.
NEW! Be sure to subscribe to my newsletter, Foodie in the Craftroom, to receive updates and tips from both Amanda's Cookin' and Crafts by Amanda! Visit https://amandascookin.com/p/subscribe-to-newsletter.html
Amanda Formaro is the crafty, entrepreneurial mother of four grown children. She loves to bake, cook, make kid's crafts and create decorative items for her home. She is a crafting expert and guru in the kitchen and has appeared online and in print publications many times over the years. She is also a craft book author five times over and product developer as well as the owner of
FunFamilyCrafts.com
. You can find her on social media by using the buttons to the left!
Latest posts by Amanda Formaro (see all)