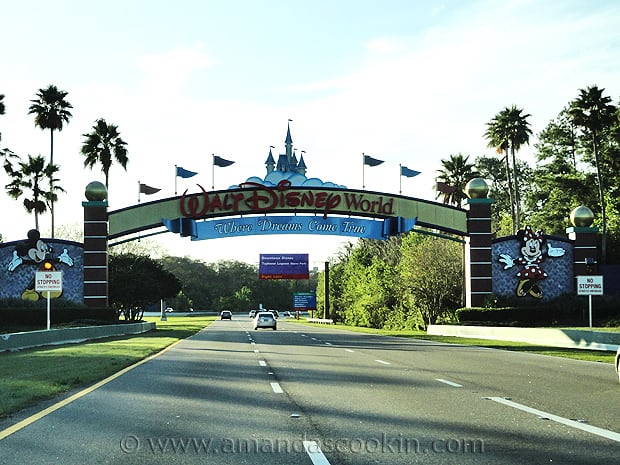 The sign says "Where Dreams Come True". You have no idea what that actually means to me, so allow me a moment to explain. On March 14th my family and I boarded a plane from Chicago to Orlando. It would be the first time I've ever been to the state of Florida, let alone DisneyWorld. When I was in high school we couldn't afford family vacations, it just wasn't in a divorced parent's budget. We lived in a tiny rented house in an affluent northern Chicago suburb. We certainly had a happy family life, just limited means. So when spring break rolled around and everyone in school (and I swear, it was everyone!) went to Florida and came back with a great tan, I stayed home.. that's right, I went back to school pale, no tan for me.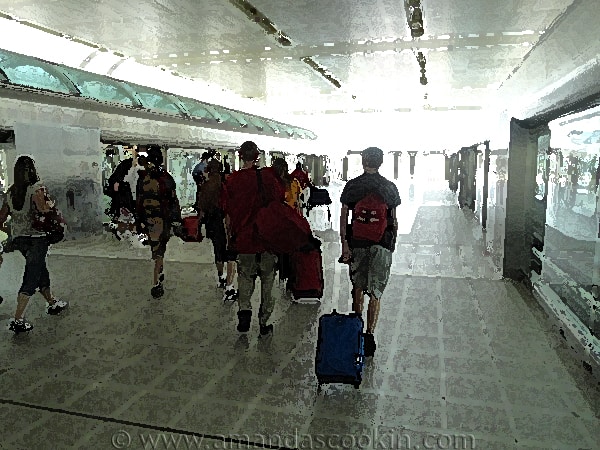 Sure, I was jealous, who wouldn't be? Though I knew that someday I would get there, to the great state of Florida, I just didn't know how long I would have to wait. So now, 30 years later, thanks to Food Blog Forum and Walt Disney World themselves, that dream has finally come true!
My good friend Angela, from Big Bear's Wife, and one of the group hostesses on my site The Secret Recipe Club, sent me an instant message one day in mid-January asking if I was going to Food Blog Forum. So I have to say a big thank you to her for bringing it to my attention!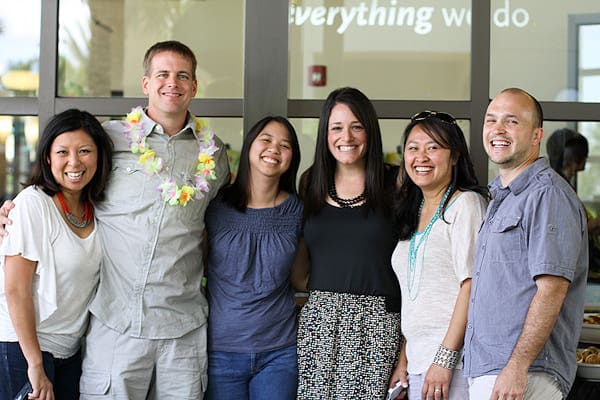 This post has the potential to end up being so long that you may not get to the end of it, so I've decided to break it up and share my personal vacation experience separately. It's important that I use this space to show you why I went in the first place. I also want to be able to thank DisneyWorld, Food Blog Forum, and all of the amazing sponsors that not only made this event possible, but affordable as well!
Special thanks go out to (pictured from left to right) Jaden & Scott Hair of Steamy Kitchen, Julie Deily of the little kitchen, and Todd Porter & Diane Cu of White on Rice Couple. Also pictured (3rd from the right) is one of the sponsors, Rachel Barbarotta who represents KitchenAid. Thank you for all the amazing prizes that were provided!
Note: If you would like to see a larger view of each picture, simply click the photo.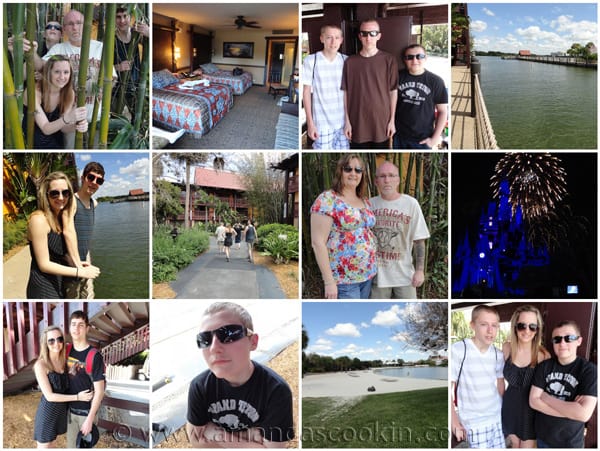 I told you that we boarded a plane on the 14th, yet the conference didn't begin until the 16th. Disney and Food Blog Forum made it possible for our families to attend, so we extended our stay and came in early. On the 16th we arrived at The Polynesian Resort, a gorgeous Hawaiian themed hotel on Disney property. The room was spectacular, the view from our room a private hotel beach in full view of nightly fireworks, and more amenities than you would ever need.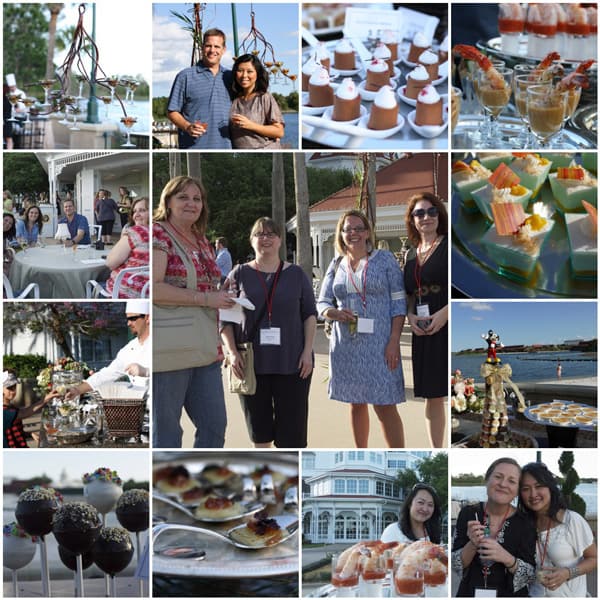 A short walk from The Polynesian is the breathtaking Victorina style deluxe resort The Grand Floridian Resort & Spa. It was at their Summer House Patio and Sand Beach where Friday night's welcome reception was held and I was able to finally meet so many blogging friends! The food provided by the resort was phenomenal, appetizers, desserts and drinks that could not have made me feel more pampered. I even ate caviar for the first time!
(Special thanks to Elise Bauer from Simply Recipes for allowing me to use the above pictures from the reception as I forgot to bring my camera that evening!)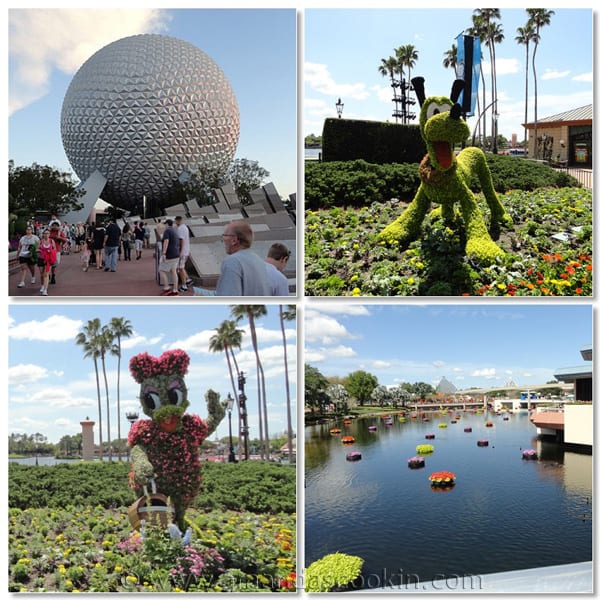 Saturday we hopped the monorail and headed for Epcot where the conference was being held. The grounds were dotted with botanicals as the annual Epcot® International Flower & Garden Festival was going on.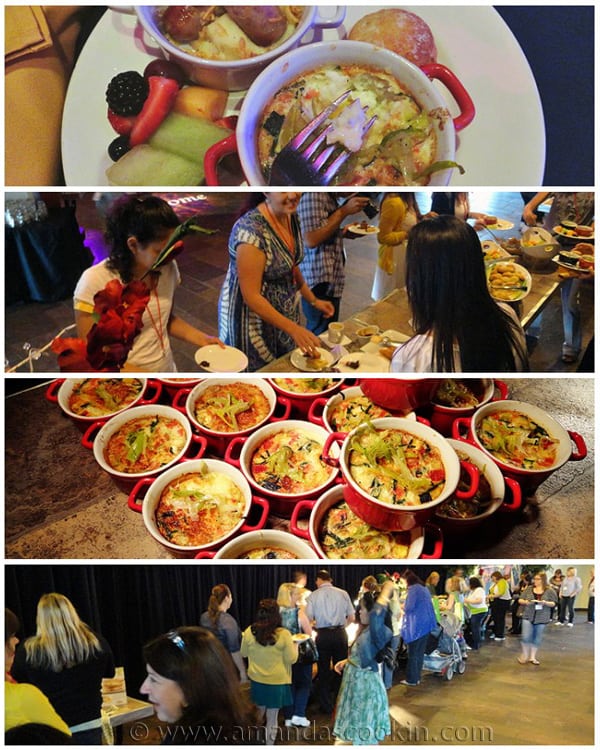 First up was breakfast, and what a spread it was! Disney constantly spoiled us with dishes from their 5-star resorts and restaurants. Once we were all settled and enjoying our meal, the conference began.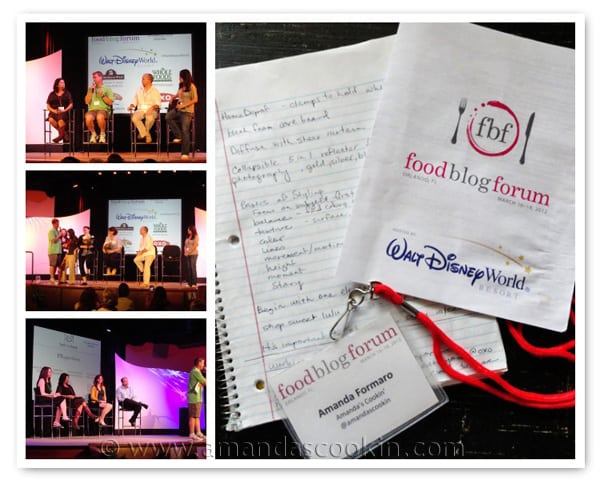 Food blogger conferences were created for the same reason other business conferences are, to help you improve and expand the business you are passionate about. Throughout the day we heard from speakers Scott & Jaden of Steamy Kitchen and Todd & Diane of White on Rice Couple, as well as a great line up of other notable bloggers in the industry. There were round table discussions, presentations and plenty of opportunities for learning.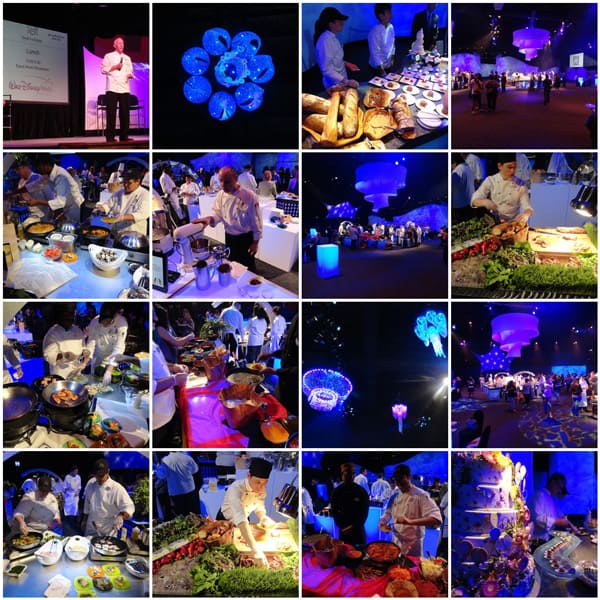 We broke for lunch and walked over to the Epcot World Showplace where Disney's restaurants and bakeries put on a spectacular show of culinary magic. The incredible array of foods available was astonishing and not something I expected from DisneyWorld. While we weren't able to visit any of the restaurants showcased here, they are definitely on my list for next time. Believe me, after this experience there WILL be a next time! I could see vacationing here with my husband after the kids have moved on.
So many restaurants were highlighted, their managers standing by to answer questions and chefs whipping up delicious bite sized morsels so that we could sample everything available. If I had to choose a favorite much to my own surprise it was a cuisine that I don't normally eat. The restaurant is called Sanaa, within Disney's Animal Kingdom. I spoke with the chef who described it as "the art of African cooking with Indian flavors". They served stewed lentils, a fabulous flat bread with accompaniments and wonderful roasted cauliflower with tomato sauce. The flavors were unforgettable!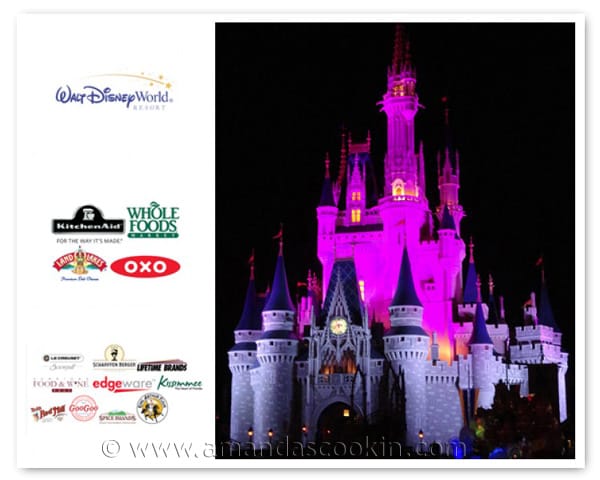 After lunch we returned to the conference, attended round table discussions and of course there were prizes! From Kitchen Aid mixers to large package bundles, they even gave away a brand new refrigerator! The sponsors of the event included of course the gracious Walt Disney World Resort, KitchenAid, Whole Foods, Oxo, Land of Lakes, Le Creuset, Scharffen Berger, Lifetime Brands, Downtown Food & Wine Fest, Edgeware, Kissimmee, Bob's Red Mill, Goo Goo Clusters, Spice Islands and King Arthur Flour. I cannot thank each of these generous companies enough for making this event possible as well as so enjoyable.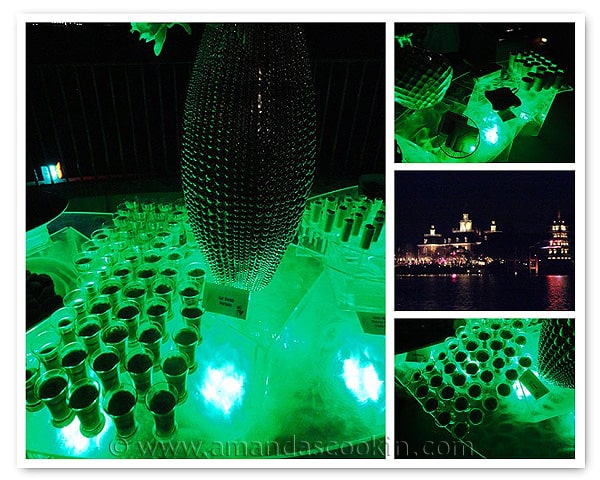 Just because the conference was over didn't mean the hospitality ended. There was still a dessert after party to attend at Eau de France Epcot. That evening we were treated to an array of Irish desserts and treats in honor of St. Patrick's Day as well as the spectacular fireworks show, IllumiNations: Reflections of Earth. We had front row seating for the show in a roped off VIP area. Disney definitely made us all feel very special.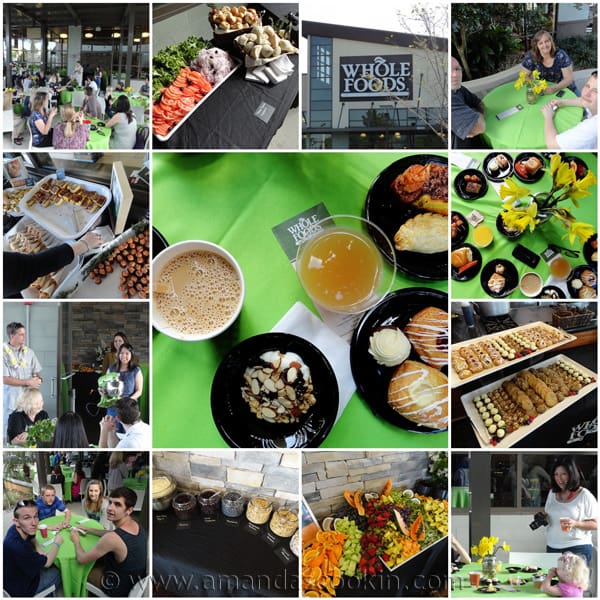 Just when you thought it was over, there was one more food filled event to attend, Sunday morning's brunch at Whole Foods Market in Orlando. The spread was amazing with homemade miniature pastries, a yogurt and granola bar, bread pudding, fresh fruit, eggs, sausage, the list goes on! All family members were in attendance as well, making it even more memorable.
An outside dining area was created for us so we could mingle one last time and grab some pictures before it was time to say goodbye. Ah, goodbye. I really didn't want to leave. That was the hardest part!
I can't say thank you enough to everyone that put this together and to all of the generous sponsors.
To Disney I do have a special thank you. Thank you for making my dreams come true and allowing me the opportunity to take my family on a vacation of a lifetime. While I haven't posted about the rest of the trip yet, I will. Thank you Disney, I will be forever grateful for your graciousness and your hospitality.
Amanda Formaro is the crafty, entrepreneurial mother of four grown children. She loves to bake, cook, make kid's crafts and create decorative items for her home. She is a crafting expert and guru in the kitchen and has appeared online and in print publications many times over the years. She is also a craft book author five times over and product developer as well as the owner of
FunFamilyCrafts.com
. You can find her on social media by using the buttons to the left!
Latest posts by Amanda Formaro (see all)