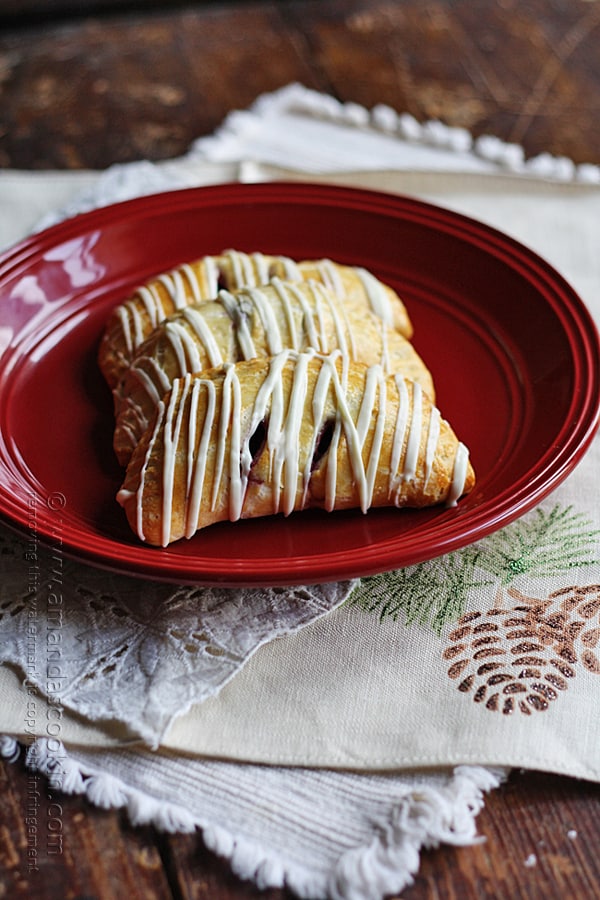 Ever since I visited the Pillsbury Test Kitchens I've had oodles of ideas floating around in my head. They showed us how to press the Grands biscuits into a disc to use for quick savory sandwiches (like Sloppy Joe Pies) or to make sweet hand pies. Recently I posted my recipe for Whole Berry Cranberry Sauce that I mentioned would make an awesome cobbler or pie. So I decided to make hand pies the easy way. And what better sweetness to go with the cranberries than white chocolate?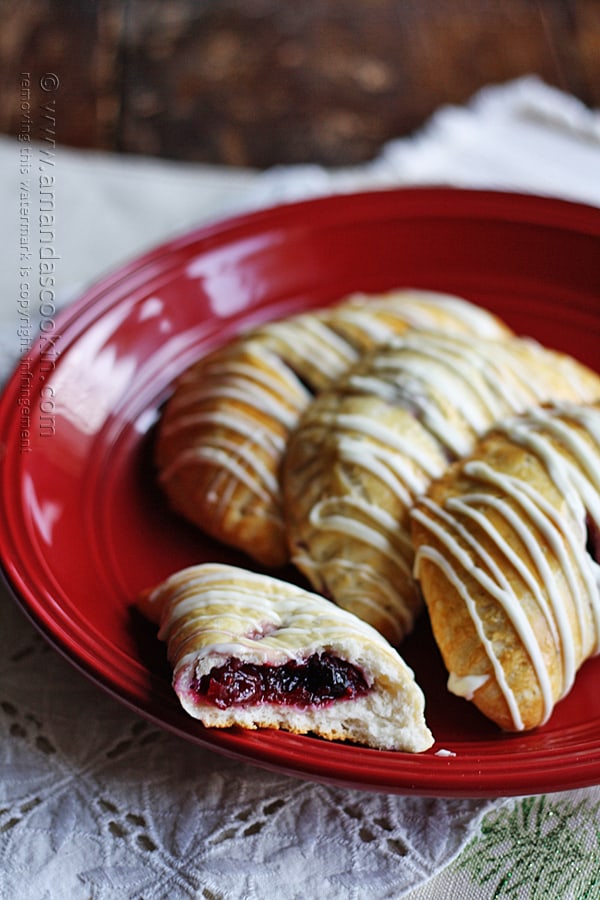 You could easily use a refrigerator pie crust for this too, but the biscuits are already a perfect circle, hence the word "easy" preceding the recipe's name! No cutting, trimming or re-rolling dough, just press them out, fill, fold and crimp. That's it!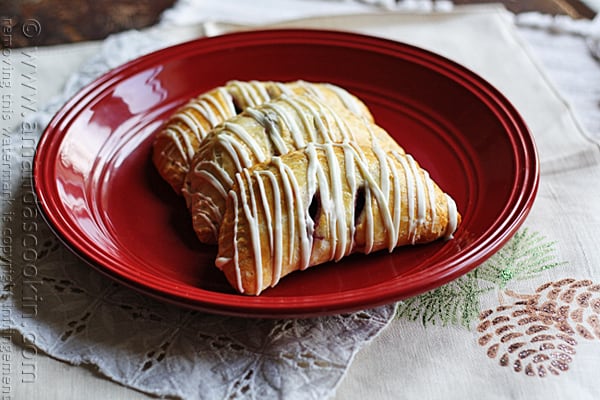 These hand pies are perfect for Christmas or Thanksgiving.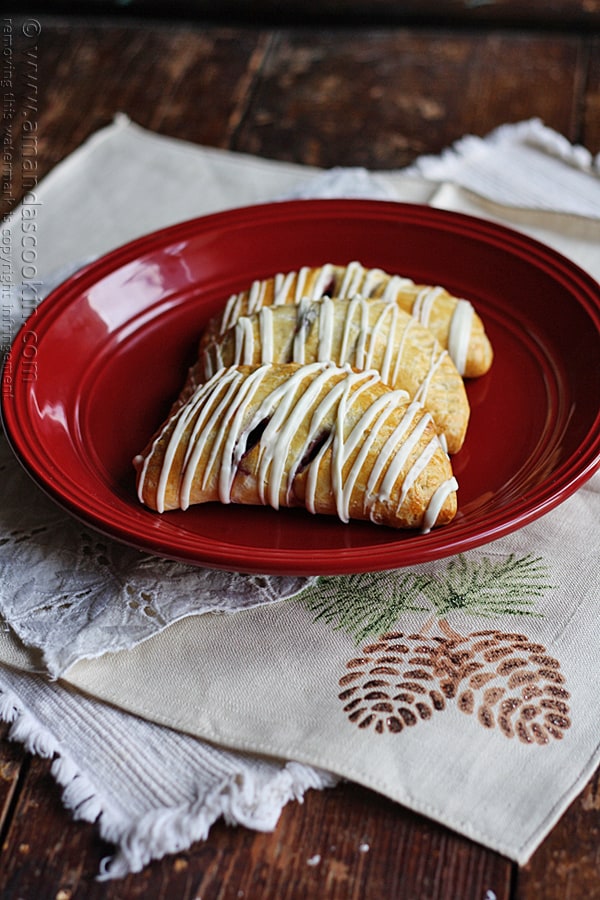 Either make some extra cranberry sauce just for pies, or use the leftover cranberry sauce from your holiday dinner. I should probably state that my cranberry sauce recipe has blueberries in it to give it a little extra sweetness. Use whatever your favorite cranberry sauce is. And yes, this would absolutely work with canned or jarred pie fillings as well!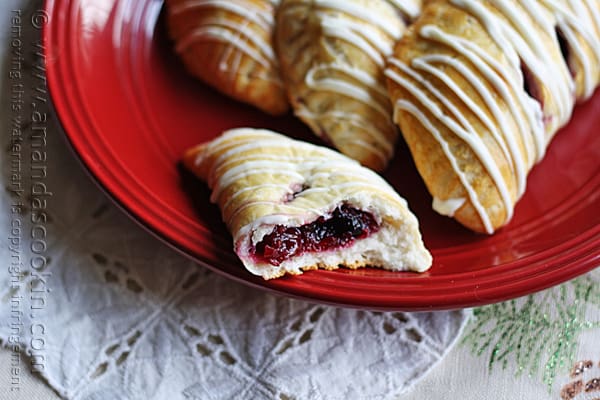 These pies are best if served fresh, the same day they are baked.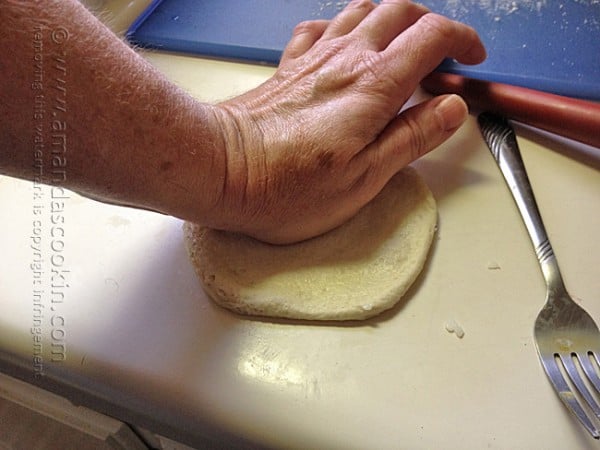 Use the heel of your palm to press out the biscuit. Start from the center and work your way out to the edges.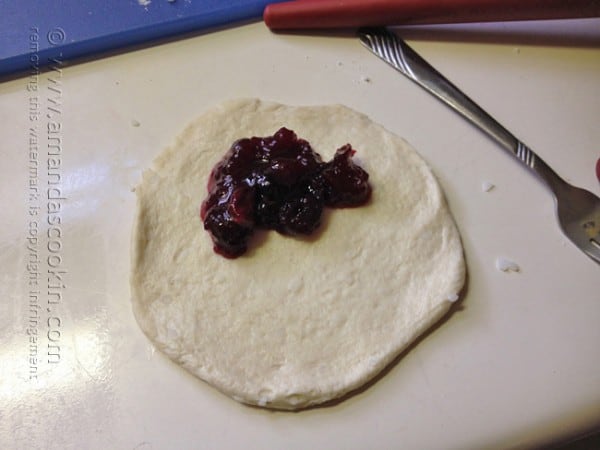 Put 2 tablespoons (don't heap them!) of cranberry sauce onto the dough circle.
Fold over and pinch the edges together.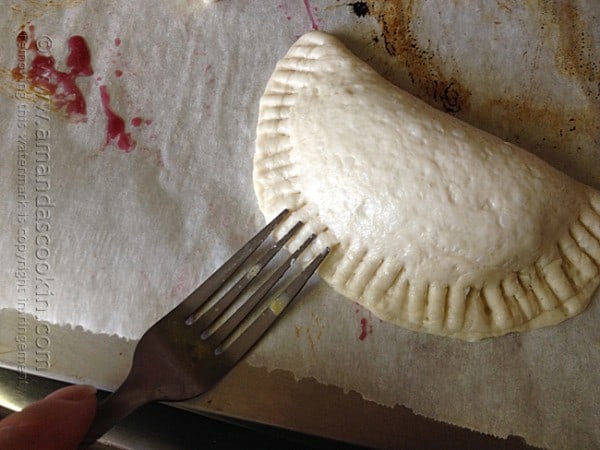 Crimp edges with tines of a fork.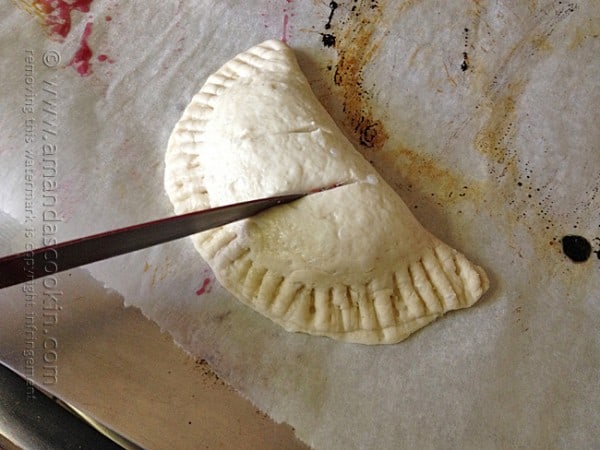 Cut two slits in the top to vent then bake according to the full printable directions below.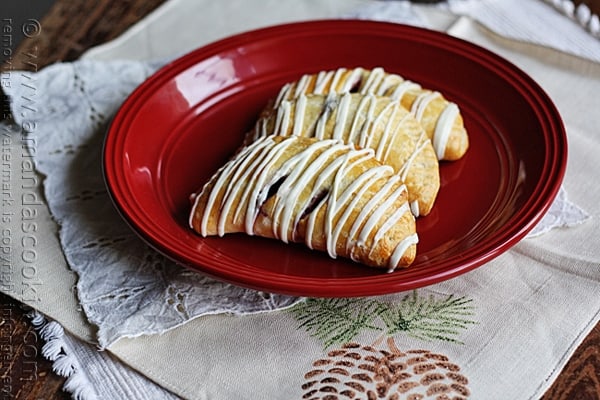 Drizzle and enjoy!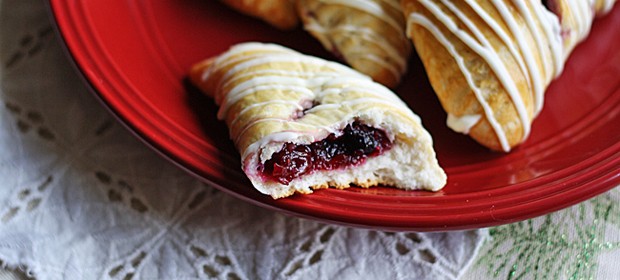 Easy Cranberry Hand Pies with White Chocolate Drizzle
Print
Rate
Ingredients
1

can Pillsbury Grands biscuits

1

cup

Whole Berry Cranberry Sauce
Drizzle
1/3

cup

white chocolate chips

1/4

teaspoon

canola oil
Egg wash
1

egg beaten with 1/4 teaspoon water
Instructions
Preheat oven to 375 F. Line an insulated baking sheet with parchment paper.

Using the heel of your hand, press a biscuit flat, starting from the center and working outward.

Place two tablespoons of cranberry sauce in the center of the biscuit.

Fold one side of dough over to the other creating a half-circle and pinch the ends together.

Crimp the ends of the dough with the tines of a fork.

Brush with egg wash.

Cut two small slits in the top of the pie to allow steam to escape.

Bake for 11-13 minutes or until light golden brown.

Remove to wire racks and cool for ten minutes.

Melt white chocolate chips and oil at 50% power for 1-2 minutes, stirring every 20-30 seconds, until melted and smooth.

Drizzle melted chocolate over hand pies and allow to set up for 5-10 minutes before serving.

%https://amandascookin.com/wp-content/uploads/2013/11/Screen-Shot-2013-11-12-at-9.31.28-AM.png
Disclosure: I was compensated for creating this recipe but I wouldn't post it if it wasn't awesome. So you can guarantee that the opinions expressed here come just from me, myself and I, and "we all" wish the plate wasn't empty now. The end.
Amanda Formaro is the crafty, entrepreneurial mother of four grown children. She loves to bake, cook, make kid's crafts and create decorative items for her home. She is a crafting expert and guru in the kitchen and has appeared online and in print publications many times over the years. She is also a craft book author five times over and product developer as well as the owner of
FunFamilyCrafts.com
. You can find her on social media by using the buttons to the left!
Latest posts by Amanda Formaro (see all)