Here we are, smack dab in the depth of autumn. Warm breezes have switched gears and cool winds are picking up. The sun hides behind clouds more often and the leaves have all fallen from the trees. The farmer's markets and pumpkin patches have closed yet again and Thanksgiving is right around the corner.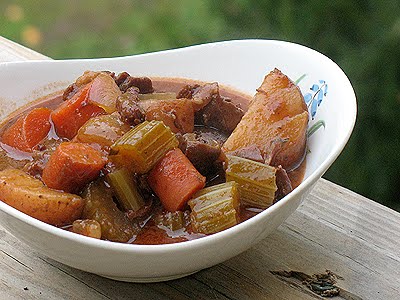 This is the time of year that we begin to think about stews, soups and lots of warm, fresh bread. Comfort food at its finest!
Recently I was visiting my friend HoneyB's blog, The Life and Loves of Grumpy's Honeybunch, and found a recipe for Crockpot Venison Stew. While we do live in the heart of hunting country (which was very apparent this weekend as men stood in line at WalMart to get their hunting licenses), we are not hunters. In fact, I've never had venison before. However, we do buy our beef by the side and that means plenty of beef stew meat in the freezer.
RELATED: Try my crockpot mac and cheese next time you pull out your slow cooker! And don't miss my Beef Stroganoff!
I'm always on the lookout for a different way to make beef stew, I've posted a few different ones already:
So I decided to try HoneyB's recipe, following it pretty closely. I of course changed out the venison for beef and substituted the beer with port wine. I did change the method a little, just combining and tossing things instead of just layering. The results were delicious! There was a bit of a kick to it, though I wasn't able to put my finger on what it was.
Everyone enjoyed it, a definitely winner in this house. :) I also made some buttermilk rolls, which you'll see below the stew recipe.
Take the first 11 ingredients and toss them in a bowl until evenly coated. Then dump them into the slow cooker.
I combined the paste and garlic, then added the broth and wine and whisked until smooth.
Next, whisk together flour, salt and pepper, then dredge the meat in the flour mixture. Brown it on all sides in oil.
Place the dredged meat over the top of the vegetables in the slow cooker.
Add broth mixture and finally the bay leaf.
Cook it on low for 7.5 hours. Discard the bay leaf before serving.
Crockpot Beef Stew
These buttermilk rolls were easy and tasty. What's beef stew with some sort of fresh bread? :)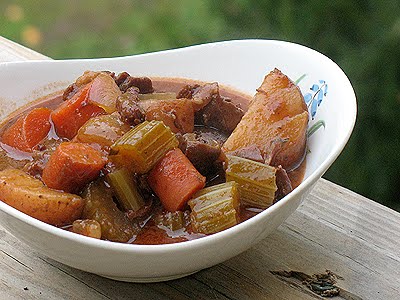 Ingredients
2  

cups

 

1-inch cubed peeled Yukon gold or red potato

2  

cups

 cremini mushrooms

quartered

1  

cup

 

1-inch cubed onion

1  

cup

 

1-inch-thick slices celery

1  

cup

 

1-inch-thick slices carrot

2  

teaspoons

 chopped fresh oregano

1 1/2  

teaspoons

 chopped fresh thyme

1  

teaspoon

 chopped fresh rosemary

3/4  

teaspoon

 freshly ground black pepper

1/2  

teaspoon

 salt

1 1/2  

teaspoons

 sugar

1/3  

cup

 tomato paste

2  

large garlic cloves

minced

1  

bay leaf

1/4  

cup

 all-purpose flour

about 1 ounce

1/8  

teaspoon

 salt

1/8  

teaspoon

 black pepper

1  

pound

 venison tenderloin

cut into 1 1/2-inch pieces

1  

tablespoon

 canola oil

1  

cup

 brown ale

such as Newcastle - I used port wine instead

1  

14-ounce can less-sodium beef broth
Buttermilk Rolls
3

cups

sifted flour

1

tablespoon

sugar

1

teaspoon

salt

1/4

teaspoon

baking soda

1/4

cup

chilled lard

butter or margarine

1

package dry active yeast

1/4

cup

warm water

105-15 degrees

2/3

cup

lukewarm buttermilk

1 to 2

tablespoons

melted butter or margarine
Instructions
Place first 11 ingredients in a bowl, toss to coat. Dump into slow cooker. Set aside bay leaf.

Combine the tomato paste and garlic. Add the broth and wine or beer to the tomato paste mixture and whisk until smooth.

Combine flour, 1/8 teaspoon salt, and 1/8 teaspoon pepper in a shallow dish; dredge venison beef in flour mixture. Heat oil in a large nonstick skillet over medium-high heat; add venison beef. Cook 4 minutes or until browned on all sides, turning frequently. Add venison beef to slow cooker. Pour beer (or wine) and broth mixture over venison. Cover and cook on low 7 1/2 hours or until meat is tender. Discard bay leaf.
Buttermilk Rolls
Sift dry ingredients together into large bowl and cut in lard until mixture is the texture of coarse meal. Sprinkle yeast over warm water and stir to dissolve; add buttermilk, pour into a well in flour mixture, and stir until dough comes together. Knead on a lightly floured board until elastic, about 5 minutes. Let rise in a buttered bowl, covered with cloth, in warm draft free area, about 3/4 of an hour, doubled in size. Punch down, turn onto board and knead 1 minute. Shape into 1 1/2 inch balls, place 2 inches apart on greased baking sheets, cover and let rise until doubled, about 1/2 hour. Meanwhile preheat oven to 425 degrees. Brush rolls with melted butter and bake 15 to 20 minutes until browned.
Amanda Formaro is the crafty, entrepreneurial mother of four grown children. She loves to bake, cook, make kid's crafts and create decorative items for her home. She is a crafting expert and guru in the kitchen and has appeared online and in print publications many times over the years. She is also a craft book author five times over and product developer as well as the owner of
FunFamilyCrafts.com
. You can find her on social media by using the buttons to the left!
Latest posts by Amanda Formaro (see all)