Did a freezer check: cranberries – yep; pumpkin – yep, nuts – yep. I've been craving cake. So sick of cookies and pie from the holidays that I can't bear the thought of them, but cake.. well. Yep. Uh huh. Cake. :) I can do cake, especially with cranberries and pumpkin!
So, have you ever printed off a recipe because the title sounded good and the ingredient list was to your liking, then halfway through making it you realized it might not be what you were expecting?
I printed off a recipe for Pumpkin Cranberry Cake. I glanced down the ingredient list, and I USUALLY read all the instructions before beginning. This time I didn't. Don't be like me, even though it all worked out in the end.
The batter tasted great, but after adding the fruit and nuts, it was no longer pourable, now it was spreadable. I'm pretty sure this recipe is supposed to resemble more of a coffee cake or a quick bread, even though it's baked in two round cake pans. The icing is just a powdered sugar glaze and you don't put the layers together. There's an optional crumb topping too. That, and it called for oil and it bakes for over an hour, indicative of a quick bread or muffin.
But I wanted cake *pout* and was already halfway through the recipe. So I decided to sub butter for the oil, I didn't have enough walnuts, so I did a mixture of walnuts and pecans, and used the pumpkin I had pureed and froze this fall, which amounted to less than the recipe called for. Yep, I was a little worried, but all for not. It all came together beautifully, though I do think it could have used another 5-10 minutes in the oven as the bottom was a bit moister than it should have been (I've adjusted for that in the recipe below).
This cake recipe calls for a full bag of fresh or frozen cranberries. If you don't like tart, I would cut that down to 3/4 or even 1/2 a bag. I loved it though, especially with the glaze. It adds just enough sweetness to counteract the tart cranberries.
I was surprised that with the amount of spices in this recipe, it didn't taste overly spicy, but the flavor is really wonderful. If you prefer a high spiced pumpkin flavor, just add more is what I say. :)
I'm calling my adaptation a coffee cake, though it could certainly be served for dessert. It crusty edges remind me of breakfast muffins, and paired with the glaze, it looks like a coffee cake, don't you think? Lovely. :)
My version of this recipe is below, if you want the original, visit the link to About's Home Cooking
Pumpkin Cranberry Coffee Cake
adapted from The Inn at Thorn Hill's recipe on About's Home Cooking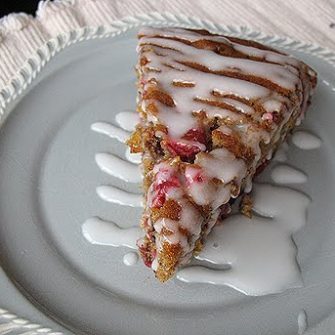 Ingredients
1

cup

chopped walnuts

1/2

cup

chopped pecans

12

ounces

2 cups fresh or frozen cranberries

3

cups

sifted flour

2

teaspoons

baking soda

2

teaspoons

baking powder

3

teaspoons

cinnamon

1

teaspoon

salt

1/2

teaspoon

ground ginger

1/2

teaspoon

finely ground black pepper

1/4

teaspoon

ground cloves

1/4

teaspoon

nutmeg

1/4

teaspoon

allspice

1 1/2

cups

pumpkin puree

2

cups

granulated sugar

2

sticks of unsalted butter

4

large eggs

1

tsp

vanilla
Icing
2

cups

confectioners sugar

2

tbsp

milk
Crumb Topping (optional)
1-1/2

cups

flour

2/3

cups

brown sugar

Pinch

of salt

8

Tablespoons

unsalted butter

melted
Instructions
Preheat oven to 350 degrees F. Grease and flour two 9-inch layer cake pans. Wash and drain the cranberries if they are fresh. If frozen, don't thaw, just bring them out of the freezer while you are preparing the batter.

Whisk together the flour, baking soda, baking powder, cinnamon, salt, ginger, pepper, cloves, nutmeg, and allspice. Set aside. 

In the bowl of an electric mixer, beat the butter until creamy, about 2 minutes. Add sugar and beat on medium speed until light a fluffy. Add eggs, one at a time, waiting about 30-45 seconds in between each one. Add pumpkin puree and vanilla and mix until incorporated. Turn mixture down to low speed and slowly add the dry ingredients, beating only until smooth. Fold in walnuts and cranberries. Turn into pans. 

If using crumb topping (I did not) add it now, before putting cakes in the oven. (recipe below) 

Bake for 60-70 minutes or until a cake tester inserted in the middle comes out clean. 

Cool in pan(s) for 15 minutes, then turn out onto rack, careful, cakes are heavy! 

When cool, drizzle with icing if you didn't use crumb topping.
Icing
In a bowl, mix sugar and milk with a small spoon until desired consistency is reached. Add drops of milk to thin if needed. Drizzle over cakes and (if desired) sprinkle with chopped nuts. 
Crumb Topping (optional)
Mix this all together to make damp crumbs. 
This post is linked to Healthy Green Kitchen's breakfast recipe blog carnival for Haiti. 
NEW! Be sure to subscribe to my newsletter, Foodie in the Craftroom, to receive updates and tips from both Amanda's Cookin' and Crafts by Amanda! Visit https://amandascookin.com/p/subscribe-to-newsletter.html
Amanda Formaro is the crafty, entrepreneurial mother of four grown children. She loves to bake, cook, make kid's crafts and create decorative items for her home. She is a crafting expert and guru in the kitchen and has appeared online and in print publications many times over the years. She is also a craft book author five times over and product developer as well as the owner of
FunFamilyCrafts.com
. You can find her on social media by using the buttons to the left!
Latest posts by Amanda Formaro (see all)