These decadent chocolate cupcakes topped with a glorious chocolate ganache are perfect. This recipe for chocolate-chocolate cupcakes comes from Dorie Greenspan's book, Baking: From My Home to Yours
. It uses bittersweet chocolate, but I've had success combining unsweetened chocolate with semi sweet chocolate in a pinch. The two tricks to these cupcakes is to make sure you don't overbake them, and to use cupcake liners.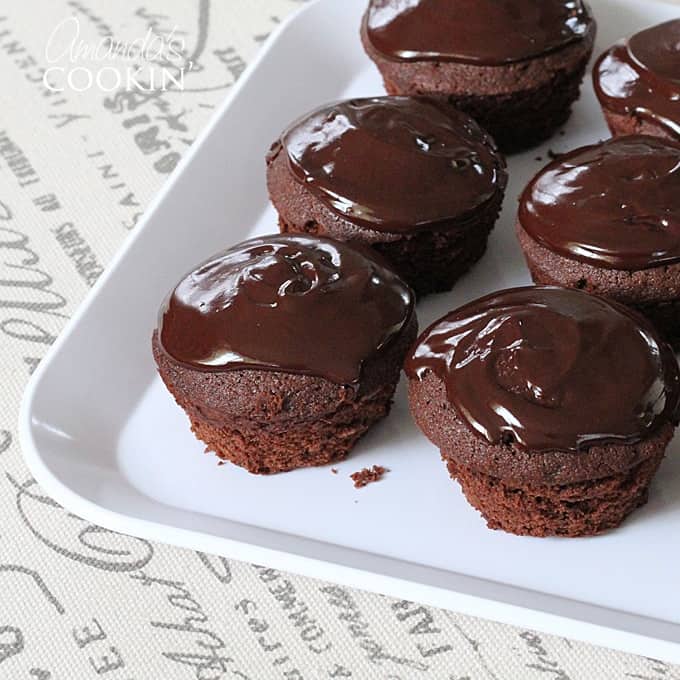 Chocolate Cupcakes from Scratch
When I first started blogging in 2008, I joined an online baking group called Tuesdays with Dorie. We were baking our way through Dorie's book and I learned a lot about baking along the way. It's interesting that when I first made these chocolate cupcakes, I baked them for 22 minutes and they were perfect. That was in a different house and a different oven.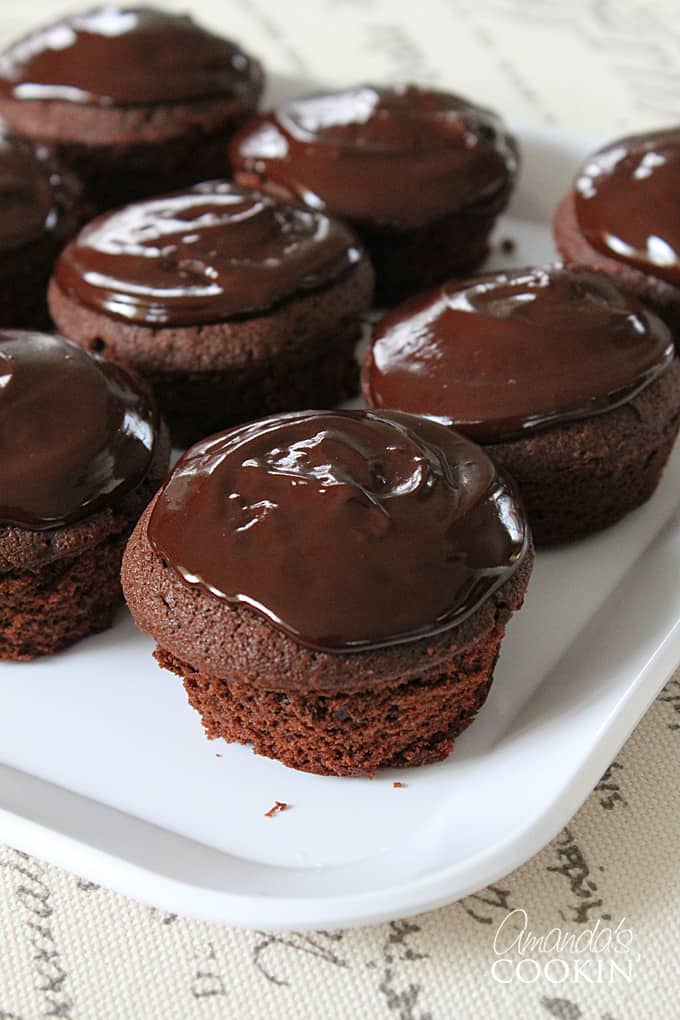 This time I baked them for 20 minutes and honestly I think they could have come out at 18 minutes. So, it completely depends on your oven, and probably the pan you're baking in as well. I do highly recommend using cupcake liners because these are very delicate cupcakes. They get a bit sturdier once they've sat overnight, but no one wants to wait an entire day to eat a cupcake!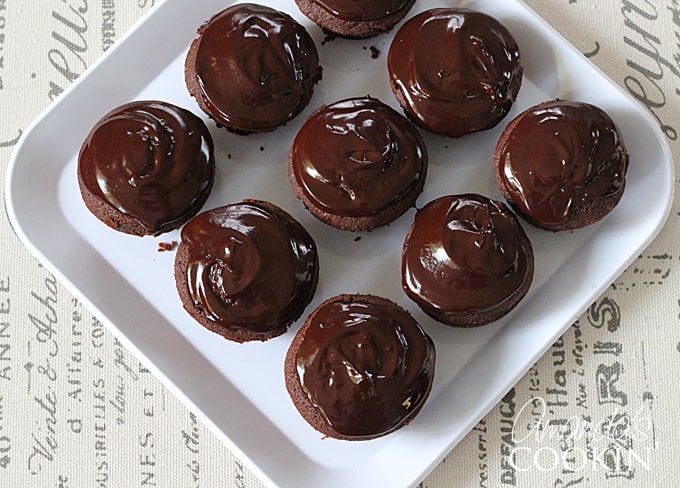 These chocolate cupcakes wouldn't be the same without the velvety chocolate ganache that tops them off. You can dip the tops in the ganache, or simply drop a dollop on top and swirl and spread it around with the back of a spoon. It's a game changer. And way better than buttercream frosting in this particular case.
There are affiliate links in this post. That means if you buy something from that link, I will earn a small commission, but it won't cost you anything additional.
Things you will need:
If you're ready to try these chocolate chocolate cupcakes, you can get the printer friendly recipe below. Be sure to check out my other cake and cupcake recipes here.
For the cupcakes:
1 cup all-purpose flour
1/4 cup cocoa powder
1/4 teaspoon baking soda
1/4 teaspoon baking powder
1 stick (8 tablespoons) unsalted butter, at room temperature
3/4 cup sugar
1 egg
1 egg yolk
1/2 teaspoon vanilla extract
1/2 cup buttermilk
2 ounces bittersweet chocolate, melted and cooled
12-cup muffin pan (or skip the liners and use a silicone cupcake pan)
For the glaze:
3 ounces bittersweet chocolate, coarsely chopped
1 tablespoon confectioner's sugar, sifted
2 tablespoons cold, unsalted butter, cut into 6 pieces
video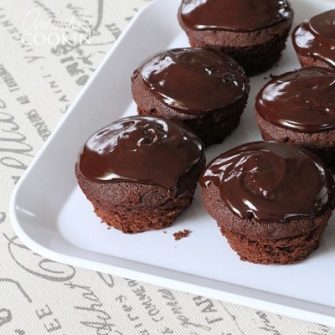 Ingredients
For the cupcakes:
1

cup

all-purpose flour

1/4

cup

cocoa powder

1/4

teaspoon

baking soda

1/4

teaspoon

baking powder

1

stick

8 tablespoons unsalted butter, at room temperature

3/4

cup

sugar

1

egg

1

egg yolk

1/2

teaspoon

vanilla extract

1/2

cup

buttermilk

2

ounces

bittersweet chocolate

melted and cooled
For the glaze:
3

ounces

bittersweet chocolate

coarsely chopped

1

tablespoon

confectioner's sugar

2

tablespoons

cold

unsalted butter, cut into 6 pieces
Instructions
Getting ready:
Center a rack in the oven and preheat to 350 degrees Fahrenheit. Fit the 12 molds of a muffin tin with paper muffin cups. Place on a baking sheet and set aside.
Make the cupcakes:
Whisk together flour, cocoa powder, baking soda, baking powder, and salt. Set aside. Working with a stand mixer or a hand mixer and a large bowl, beat the butter at medium speed until soft and creamy. Add the sugar and beat for two minutes, until it is blended into the butter. Add the egg, then the yolk, beating for 1 minute between each addition and scraping down the sides of the bowl as needed. Beat in the vanilla, then reduce the mixer speed to low and add half the dry ingredients, mixing only until they disappear. Scrape down the bowl and add the buttermilk, mixing until incorporated, then mix in the remaining dry ingredients. Scrape down the bowl, add the melted chocolate, and mix it in by hand with a rubber spatula. Divide the batter evenly into the prepared molds. Bake for 22 - 25 minutes, or until the tops of the cakes are springy and a tester inserted in the centers comes out clean. Transfer the muffin pan to a cooling rack and allow the cakes to cool for 5 minutes before unmolding them. Cool to room temperature before glazing.
Make the glaze:
Melt the chocolate in a heatproof bowl over a saucepan of simmering water.Transfer the bowl to the counter and allow it to sit for five minutes. Stir in sifted confectioner's sugar, followed by pieces of cold butter. Stir until the butter completely disappears into the chocolate. Use a small spatula to spread the glaze on the cupcakes or dip them if the glaze seems very thin (if you'd prefer, allow the glaze to cool more, then spread.)
Amanda Formaro is the crafty, entrepreneurial mother of four grown children. She loves to bake, cook, make kid's crafts and create decorative items for her home. She is a crafting expert and guru in the kitchen and has appeared online and in print publications many times over the years. She is also a craft book author five times over and product developer as well as the owner of
FunFamilyCrafts.com
. You can find her on social media by using the buttons to the left!
Latest posts by Amanda Formaro (see all)