These Chicken Enchilada Empanadas are a lot easier than you think! Using simple ingredients including Pillsbury Grand Biscuits and a rotisserie chicken from the store, you'll have dinner ready in about 35-40 minutes!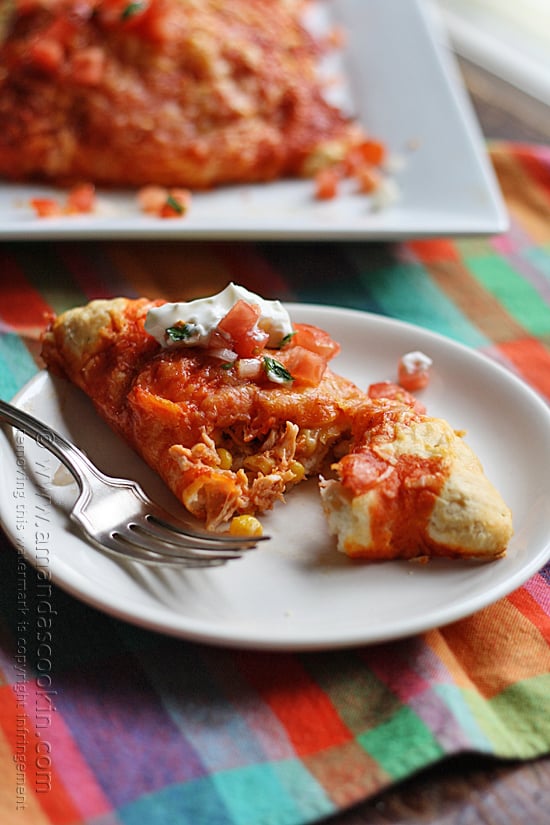 Chicken Enchilada Empanadas
Weeknight dinners can really be challenging, especially if you work outside the home or have kids in sports or other after school activities. Families need fast dinner solutions, meals that taste great but won't take forever to cook. I love making homemade bread. But, let's face it, homemade bread takes hours and when you walk in the door from a long day, you simply don't have the energy or the time to make bread from scratch. So you might be thinking that empanadas sound great, but aren't quick and you don't have time to be messing with making dough. Well, I have a treat for you then!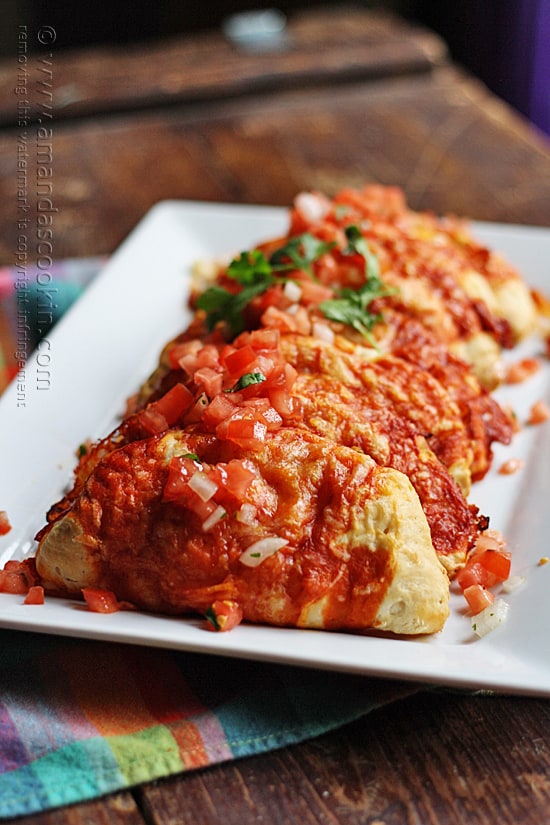 To test out just how easy these are to make, I asked my 19-year-old daughter, currently a college student living with roommates, to make it with me.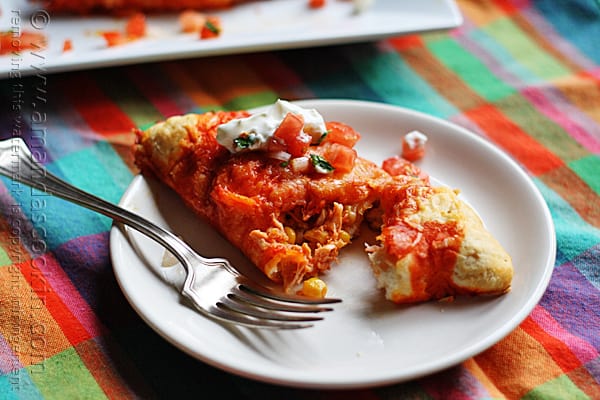 The results were positively delicious, and yes, very easy. Ready to try it yourself?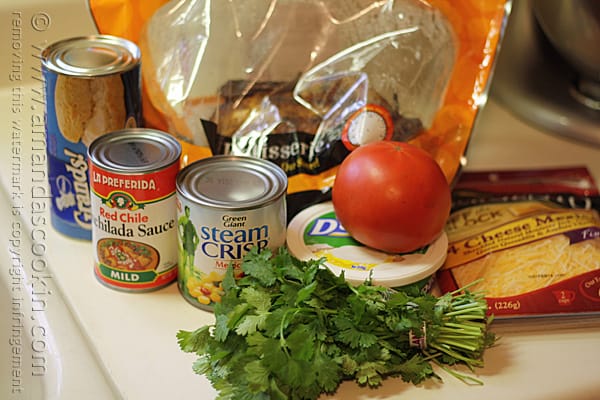 Ingredients for Chicken Enchilada Empanadas
You're going to need one of those rotisserie chickens you can get already cooked at the grocery store. If you prefer, you can cook up a chicken breast. You'll also need a can of Pillsbury Grands biscuits, a can of enchilada sauce (or if you like, you can make this homemade enchilada sauce and freeze it for nights like this), an additional filling like Mexicorn, roasted red peppers or maybe black beans, and some shredded cheddar cheese. I like to garnish, so I also chopped up some tomatoes and cilantro and served with sour cream.
1 chicken breast, cooked and shredded
1 can enchilada sauce
1/2 can Mexi-corn (or black beans or roasted bell peppers)
Shredded cheddar cheese
Optional garnish:
chopped fresh cilantro
chopped fresh tomatoes
sour cream
Helpful Kitchen Tools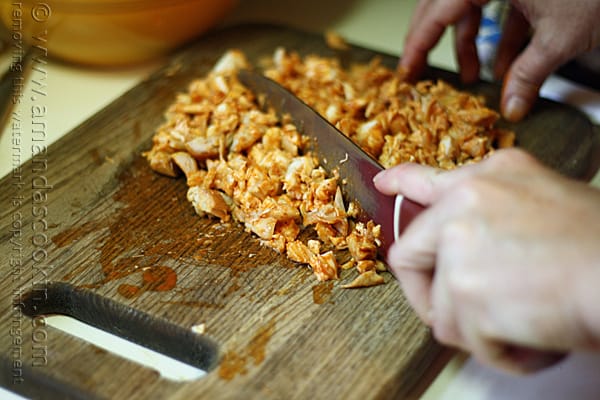 Start off by pulling the breast meat off the rotisserie chicken. If you like you can add in the leg meat too. Put all that meat in a bowl and toss in about 1/4 cup of the enchilada sauce and coat the chicken with it. Turn that coated chicken out onto a cutting board and chop it up.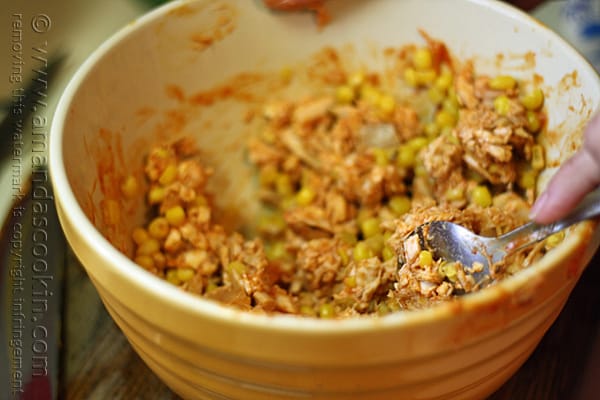 Put the chopped chicken back into the bowl and stir in the filling, in this case half a can of Mexi-corn.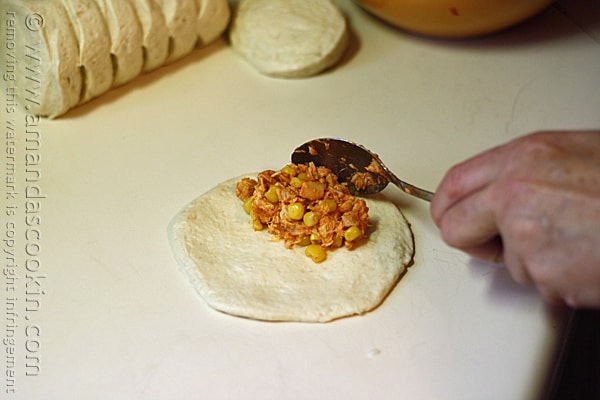 Open a can of Grand biscuits, and using the heel of your hand flatten the biscuit to a circle. Place a large spoonful of chicken mixture onto one side of the dough circle.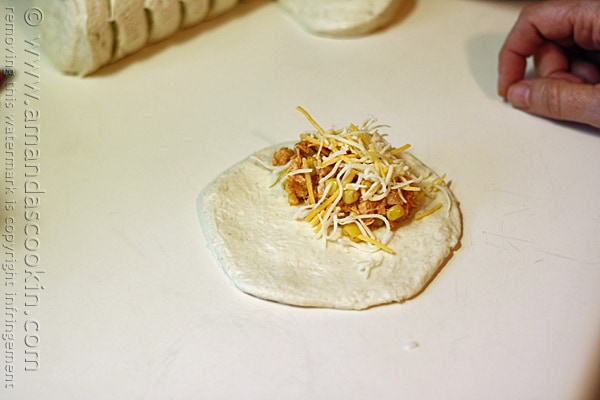 Top with some cheese.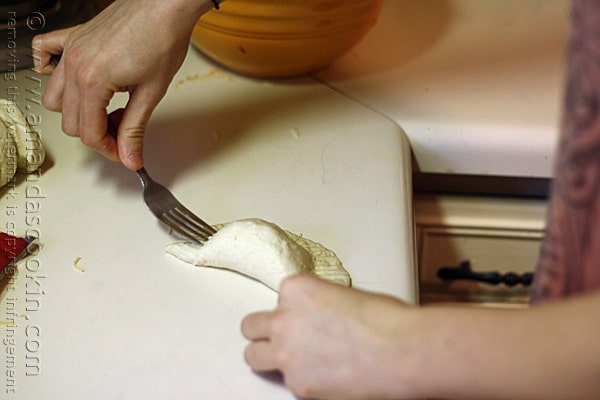 Fold the dough over the chicken mixture to create a half-circle pie. Press the ends together and crimp with a fork.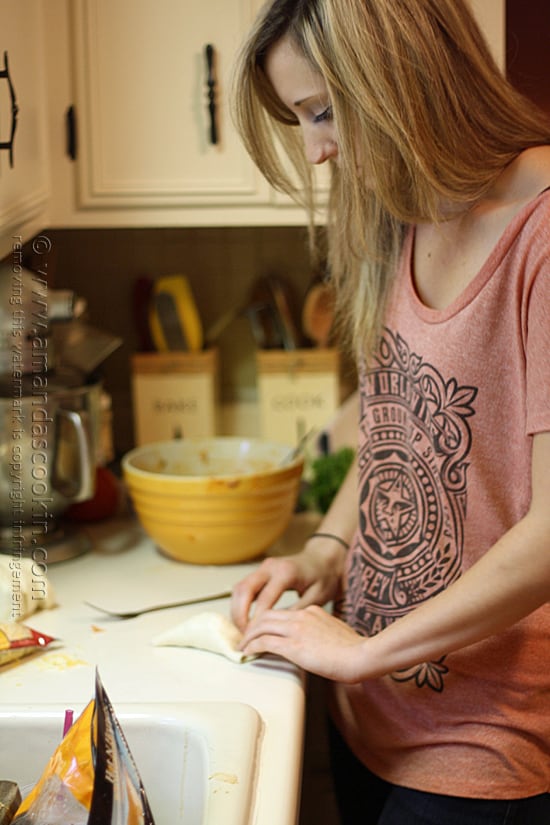 My daughter made half of these by herself and had no problems!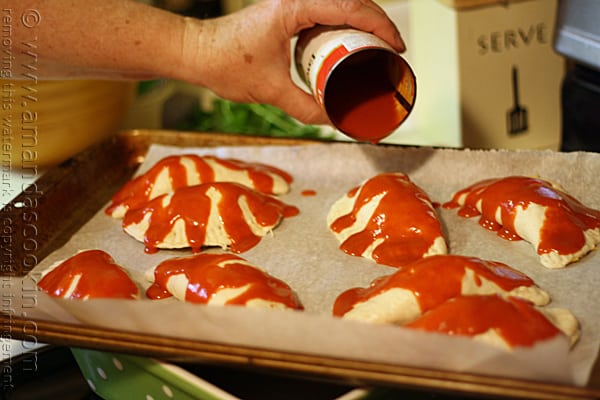 Line your baking sheet with parchment paper and place the empanadas onto the parchment. Drizzle the remaining enchilada sauce over the pies.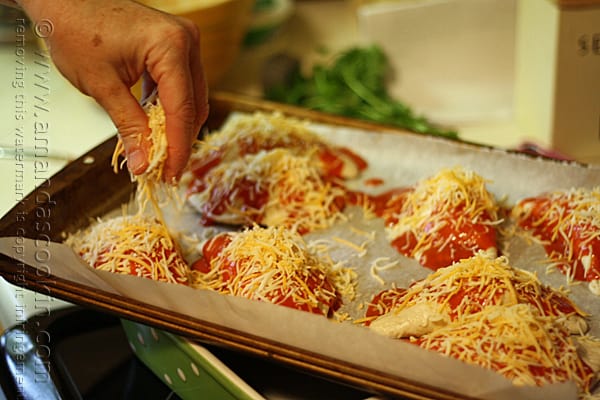 Top generously with shredded cheese.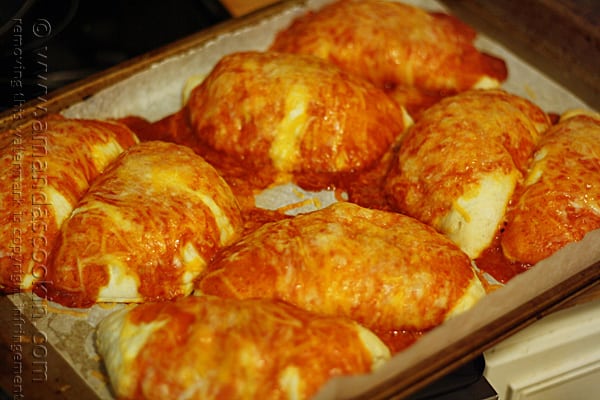 Bake for 20 minutes at 375 F.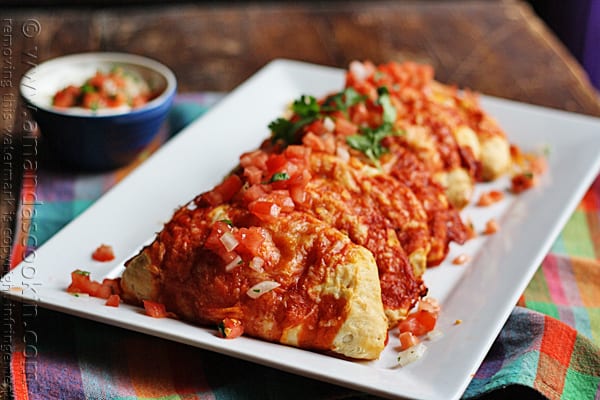 Remove the from the oven and move to a serving dish.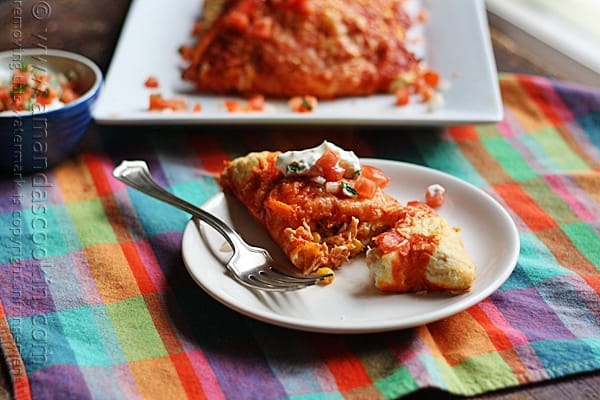 Delicious Chicken Enchilada Empanadas coming your way!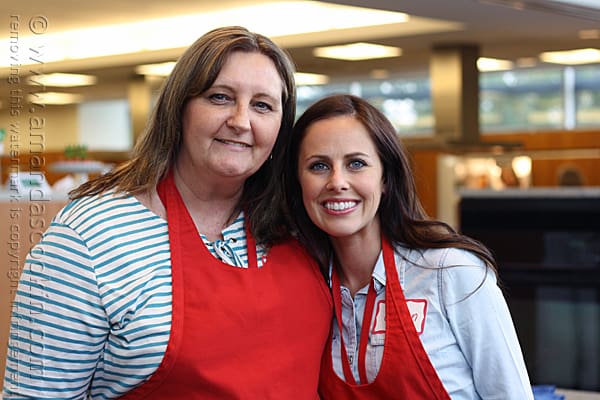 You might be wondering where this recipe came from… This is Cariann of Oh Sweet Basil and I during our trip to General Mills and the Pillsbury Test Kitchens. You can read all about it and see LOTS of pictures on AmandaFormaro.com.
We were offered a challenge. Use one of the Pillsbury dough products and 4 other ingredients to create a tasty dinner dish. There was a table full of ingredients for us to choose from, but picking only four was really hard. Garnishes were considered optional thank goodness. ;-) Cariann and I brainstormed the idea and grabbed some rotisserie chicken, a can of enchilada sauce, a package of shredded cheese and a big red bell pepper. While I was busy roasting the red bell pepper in a skillet, Cariann got busy flattening the biscuits and shredding the chicken. We were going to make some easy Chicken Enchilada Empanadas!
I chopped some fresh tomato and cilantro for garnish…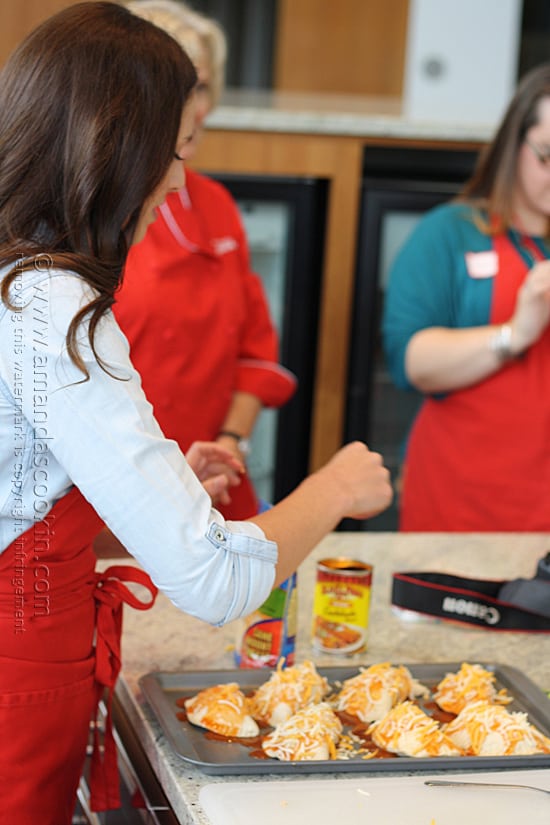 Meanwhile, Cariann added the final topping of cheese before the chicken enchilada empanadas went into the oven.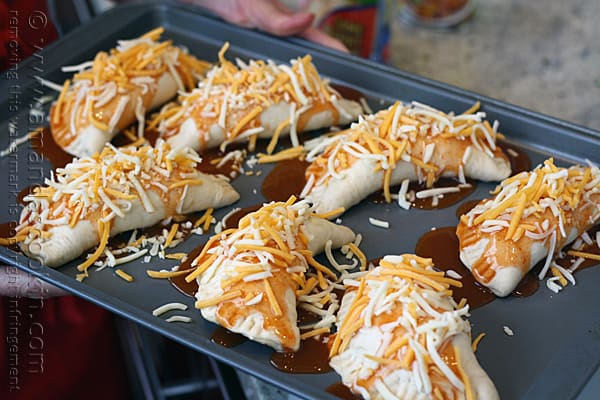 Ready for the oven!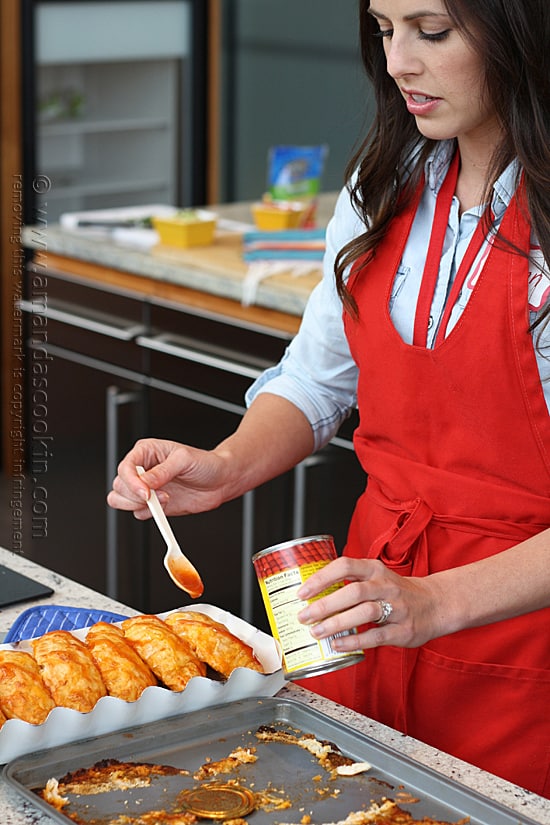 We had no idea what the results would be, but when they came out of the oven they were puffed and golden. Totally beautiful! Cariann drizzled a little enchilada sauce on for garnish.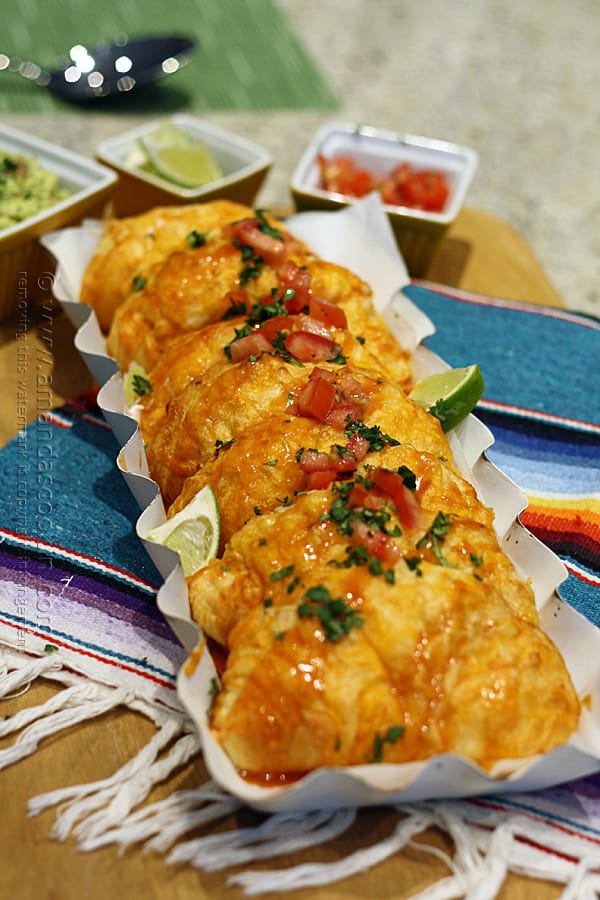 And there it is! Chicken Enchilada Empanadas, all done and ready for eating.
We had a lot of fun at the test kitchen. Be sure to stop by and read about it here!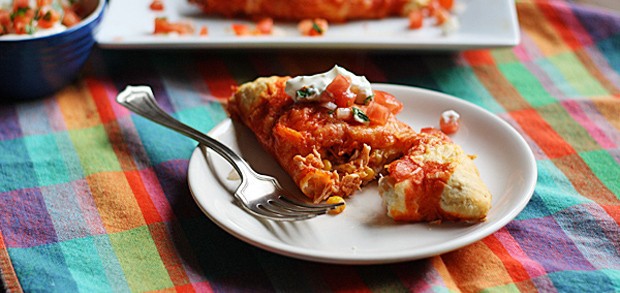 Ingredients
1

chicken breast

cooked and shredded

1

can enchilada sauce

1/2

can Mexi-corn

or black beans or roasted bell peppers

Shredded cheddar cheese
Optional garnish:
chopped fresh cilantro

chopped fresh tomatoes

sour cream
Instructions
Preheat oven to 375 F. Line a baking sheet with parchment paper.

Shred chicken and mix with 1/4 cup enchilada sauce. Toss in corn and stir well.

Separate biscuits and flatten with heel of your hand.

Place 1 large spoonful of chicken mixture onto dough and top with a sprinkling of cheese.

Fold dough over to enclose, pressing edges to seal. Crimp with the tines of a fork.

Place pies onto parchment lined baking sheet and drizzle with remaining enchilada sauce. Top generously with shredded cheese.

Bake 20-23 minutes. Remove from oven and immediately transfer to serving dish.
Amanda Formaro is the crafty, entrepreneurial mother of four grown children. She loves to bake, cook, make kid's crafts and create decorative items for her home. She is a crafting expert and guru in the kitchen and has appeared online and in print publications many times over the years. She is also a craft book author five times over and product developer as well as the owner of
FunFamilyCrafts.com
. You can find her on social media by using the buttons to the left!
Latest posts by Amanda Formaro (see all)