Cantaloupe cream pie – something I hadn't heard of until just recently. Really, it sounded a little weird to me. I mean, come on, cantaloupe? In a pie? Turns out, there are recipes for not only cantaloupe, but others melon, and even watermelon! Well, I'm game for almost anything, especially a flavor like cantaloupe, which I love, and the fact that it's a dessert just locked it in.
In case you're wondering how I actually came across this idea, it wasn't completely mine. I work for Old Fashioned Living as their editor. A site visitor named Lydia had written to me after having trouble with a recipe… for cantaloupe cream pie. The recipes was posted within the article "Harvesting and Using Fresh Cantaloupe", amongst other interesting recipes such as cantaloupe bread and cantaloupe preserves.
Lydia wrote:
"I was making the above recipe, and during the step that says cook over medium heat for 8-10 minutes, stirring constantly, the mixture did not boil nor become thick, it more resembled thick scrambled  eggs – it didn't 'glug pop' boil like pudding sometimes does. The texture was really weird, it was not smooth like pudding, was not appealing.  It was almost as if the eggs gave it a weird texture because they started to 'turn scrambled' in the saucepan." 
Having made several ice creams and custards before, I decided to test the recipe out myself, to see if I could help Lydia troubleshoot and figure out what went wrong. When I made this pie, I was successful, everything went as described in the recipe. I have a feeling that Lydia's issues rose from either having the heat too low for too long, or perhaps she pureed the cantaloupe first before measuring, making the mixture too thin.
Now on with the review. First off, you must allow this pie to stay in the refrigerator overnight. It just needs that long to set up. It's delicious, but definitely needs the whipping cream to offset the sweetness of the custard. Obviously I had a bit of whipping cream overload, I did that just to get enough height to fill and mound up in the pie shell.
While this was very good, and none of it went to waste, here are the things I would do differently next time:
1) I'd definitely make this as a tart next time, instead of a pie. A tart is shorter and this custard, as you can see from the picture, is quite short itself. Dorie Greenspan's book, Baking From My Home To Yours
, has an excellent tart dough recipe.
2) For a pie, I would actually combine the custard and whipped cream by gently folding them together until nicely combined. This would soften the sweetness a bit and would actually create more of a mousse type texture, and would allow for more height.
I've rewritten the instructions from those that were on the site to make them clearer and easy to follow.
Cantaloupe Cream Pie
adapted from Old Fashioned Living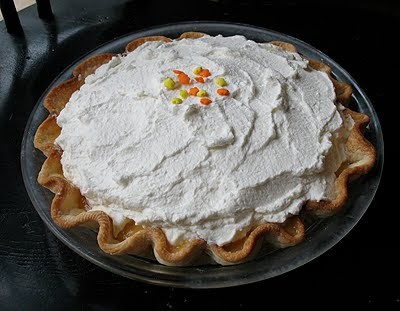 Ingredients
1

cup

granulated sugar

2

tablespoons

flour

3

eggs

beaten

1

cup

cantaloupe

1

teaspoon

vanilla extract

2

tablespoons

unsalted butter

1 8

" pastry shell

baked

1

cup

whipping cream
Instructions
Combine the sugar and flour in a saucepan; add eggs, use a whisk to mix well. Puree the cantaloupe in a blender. You should get about 2/3 cup of puree from one cup of chopped cantaloupe. Add the puree to the egg mixture and whisk to combine.

Cook over medium heat, stirring constantly with a wooden spoon, the mixture will begin thickening rather quickly. Cook until mixture boils and thickens, about 8 to 10 minutes. Remove from heat, add the vanilla and butter, stir until smooth.

Place custard into a bowl and allow it to cool. While custard is cooling, bake pastry shell and set aside to cool.

Put the custard into the baked shell. Using the whisk attachment, beat the whipping cream on high speed until stiff peaks form; spread evenly over top of custard. Allow pie to set in refrigerator overnight for best results.
More from me you might like:
Homemade Cherry Pie Filling
Amanda's Espresso Chocolate Pie
Grasshopper Pie
Homemade Baker's Square French Silk Pie
More from the interwebs:
Cantaloupe Pie – from Recipezaar (uses cream cheese and gelatin)
Cantaloupe Pie – from Diana's Desserts
Seafoam Cantaloupe Pie – from Vintage Cookbooks
(If you enjoyed this post, I'd truly appreciate a stumble, Digg, facebook share, whatever you like! :) )
NEW! Be sure to subscribe to my newsletter, Foodie in the Craftroom, to receive updates and tips from both Amanda's Cookin' and Crafts by Amanda! Visit https://amandascookin.com/p/subscribe-to-newsletter.html
Amanda Formaro is the crafty, entrepreneurial mother of four grown children. She loves to bake, cook, make kid's crafts and create decorative items for her home. She is a crafting expert and guru in the kitchen and has appeared online and in print publications many times over the years. She is also a craft book author five times over and product developer as well as the owner of
FunFamilyCrafts.com
. You can find her on social media by using the buttons to the left!
Latest posts by Amanda Formaro (see all)