A bubble up casserole is also known as a biscuit topped casserole. Basically, you are cutting up biscuits and dropping them on top of your hot dish before it goes in the oven. The result is that the biscuits "bubble up" and create a lovely browned and crusty topping. This version of mine uses rotisserie chicken, rotini pasta and a homemade sauce instead of the condensed soup base that so many casserole recipes use.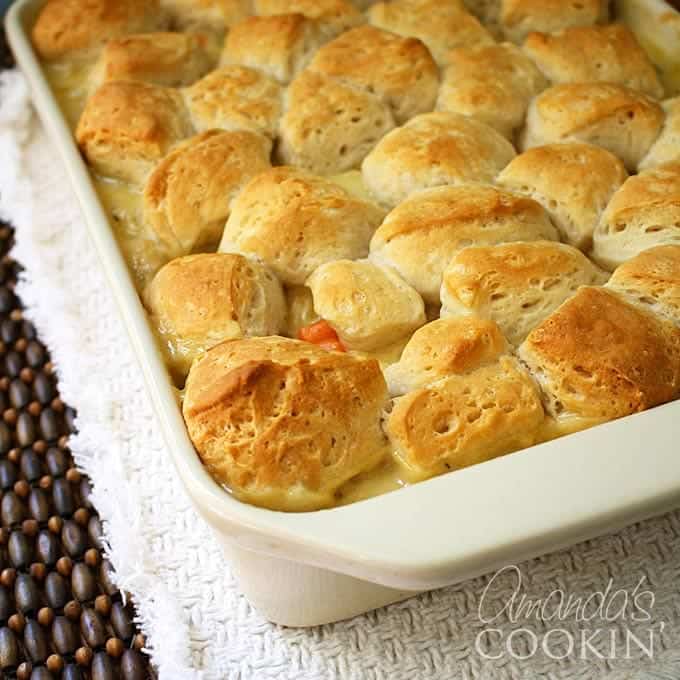 Making Chicken Bubble Up
In this bubble up recipe I will show you just how easy it is to make your own delicious gravy. If you prefer to use condensed soup, you will want to check another recipe that you enjoy (that uses condensed soup) and compare so that you can make the substitution. Either way, this chicken casserole is a comforting meal your family will love!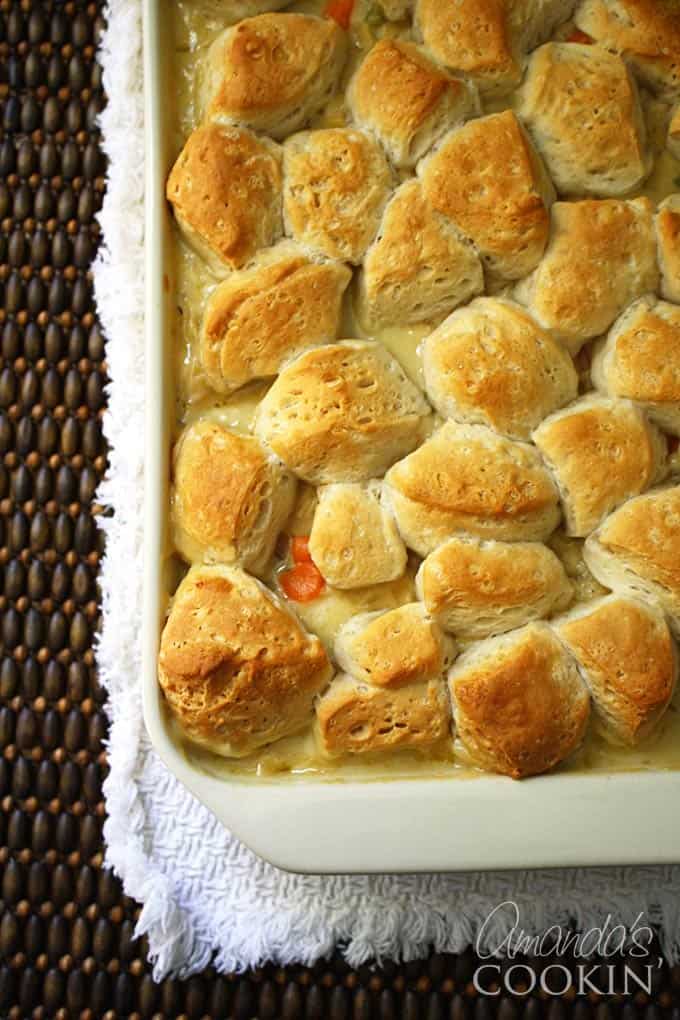 It's not officially fall just yet, but with September comes the promise of cooler weather. That means we'll be baking more bread and dessert, cooking in the oven more and making more casseroles and bubble ups around here. Funny thing is that I'm not a big biscuit fan, I usually prefer dinner rolls. But I love a good bubble up and dipping the biscuit topping into the gravy. Yum!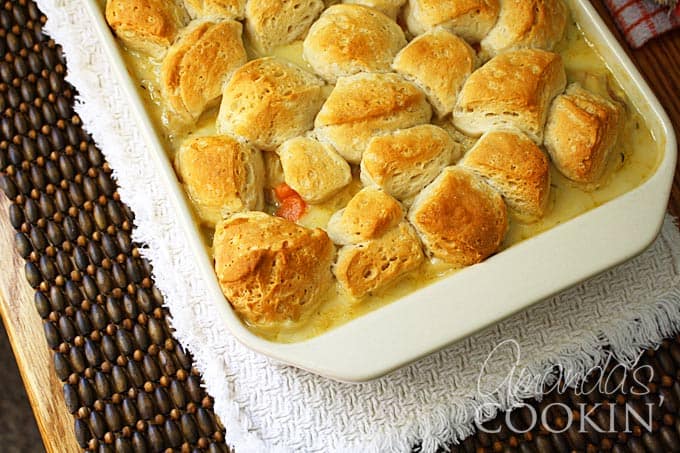 This is a fairly easy recipe, nothing fancy about it. It uses rotisserie chicken that you buy from the local market or grocery store. There are different sizes however. If you buy one at Sam's Club, it's pretty big, I'm guessing around 7-8 pounds. The ones you grab from a regular grocery store are about 4-5 pounds. This bubble up uses the smaller grocery store version.
As I said before I don't care for casseroles that use condensed soups as the base. I know that many people do, but I don't. So for my casseroles, and for this chicken bubble up recipe I make my own sauce base using chicken broth and half and half. Cream would work too, but half and half has less calories and fat. You may be able to use milk, but I haven't experimented with it and it may result in a thinner sauce. So keep that in mind when making your bubble up!
Ingredients you will need are:
4-5 medium carrots, chopped (about 1 cup)
6 tablespoons unsalted butter
3 celery ribs, chopped (about 1 cup)
1 medium onion, chopped (about 1 cup)
salt
3/4 cup unbleached all purpose flour
4 1/2 cups chicken broth, divided
1 cup half and half
1/2 tsp dried thyme
1 rotisserie chicken, meat removed and cut into bite sized pieces (about 3 cups)
1/2 pound Rotini, cooked al dente
1 can refrigerator biscuits
Note: a full printable version of this bubble up recipe is at the end of this post. There are affiliate links included in this post. That means if you click one AND you happen to buy something, I may earn a small commission on that sale. Thank you!
What you need to do:
Preheat oven to 350 F. Pull out a 13×9 baking dish.
Place carrots in a saucepan and bring to a boil. Allow them to cook until tender. Drain and set aside. Cook pasta and drain, set aside.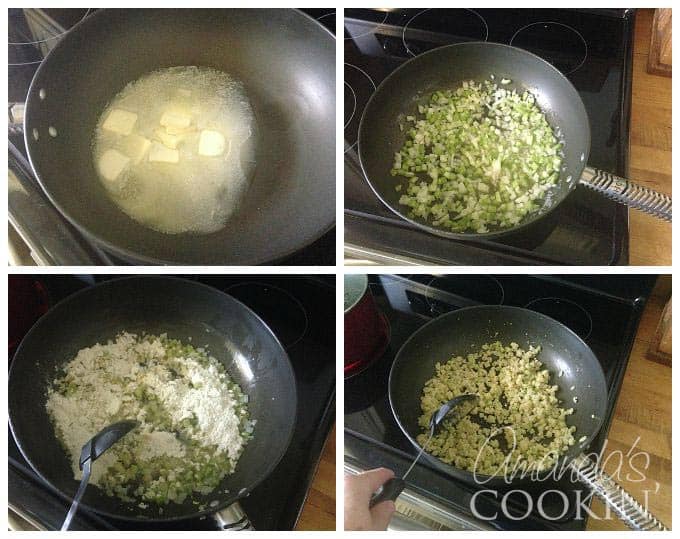 Meanwhile, melt butter in a large skillet over medium-high heat. Add celery, onions and a teaspoon of salt, cook until softened and lightly browned, 5-7 minutes. Stir in the flour and cook, stirring constantly, until lightly browned, about one minute.

Gradually whisk in 1 cup of the chicken broth and cook until thickened. Slowly whisk in the remaining broth, half and half and thyme. Add the chicken, carrots and prepared pasta, bring mixture to a boil. Reduce the heat to low and simmer for 15 minutes or until sauce is thickened.
While chicken mixture is simmering, open the can of biscuits and cut each one into four pieces.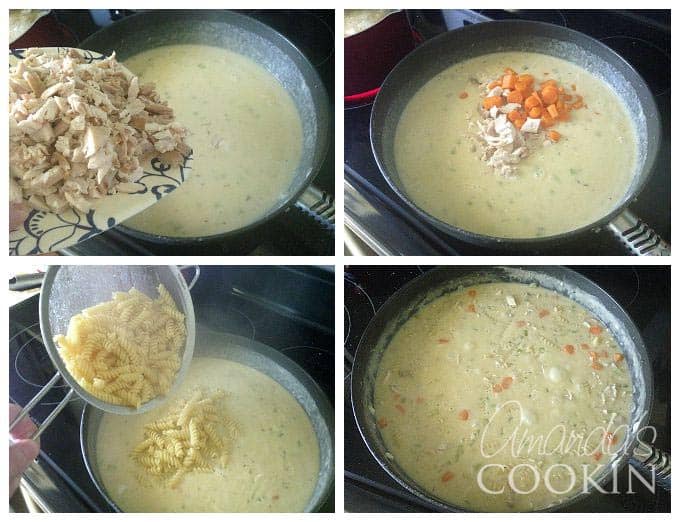 Pour chicken mixture into 13×9 baking dish. Place biscuits pieces all over the top of the dish. Use a spoon to carefully tuck in any pasta noodles that are sticking out. Tucking the pasta into the sauce will keep them from hardening while in the oven.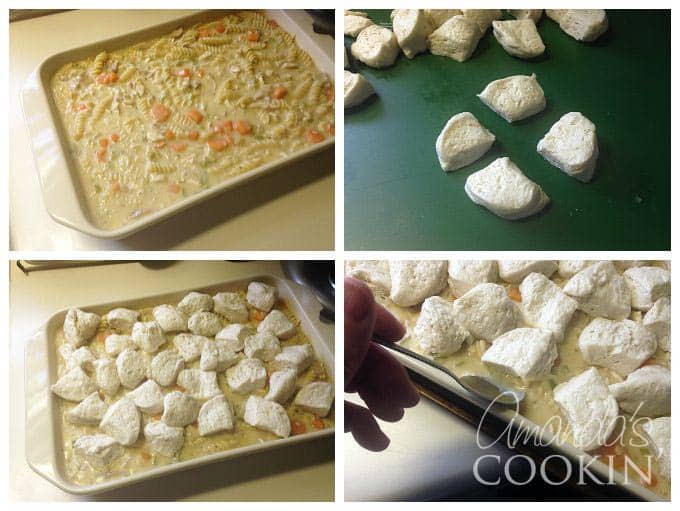 Bake in preheated oven for 23-28 minutes, or until edges are bubbly and biscuits are golden brown.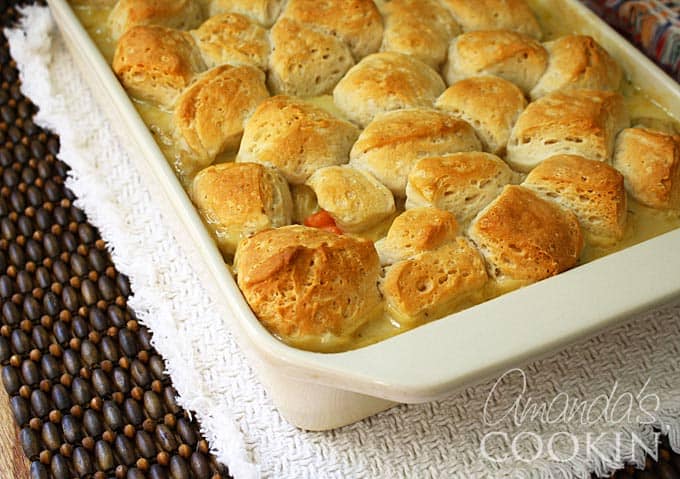 If you're looking for more bubble up recipes, here are a few that looked good to me! Pillsbury has a Chicken Fajita Bubble Up Bake, this Bubble Up Chicken Pot Pie from Emily Bites looks great, and Julie's Eats and Treats has one called Cordon Bleu Bubble Up. Hope you enjoy it!