I'm kind of stuck in my ways. Whenever I go out to eat, I tend to order steak. I love a tender, juicy Filet Mignon, and even though I look through the menu at all the other items, I always seem to order a steak. Medium rare thank you. Here lately I've actually been recreating the steakhouse experience at home.
This post is sponsored by Idahoan® Premium Steakhouse® Potato Soups. I have been compensated for my participation in this campaign as a member of the Mom It Forward Influencer Network.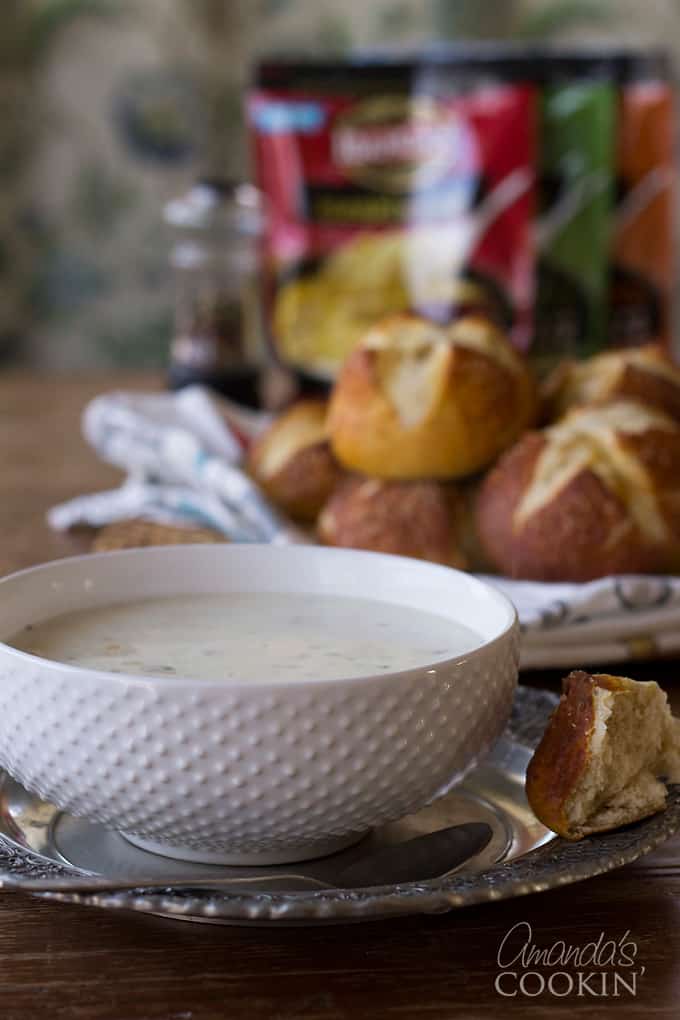 Bringing the Steakhouse Experience Home
I think everyone probably has a favorite steakhouse, mine was in Henderson, Nevada. The food was so incredible. We would start with a basket of home baked Bretzel rolls and bread, followed by a steaming bowl of cream of potato soup. Next up was a tender Filet Mignon and a twice baked potato that was so big we always had leftovers. Dinner was followed by a fresh brewed cup of coffee served in a French press right at the table. I loved that experience!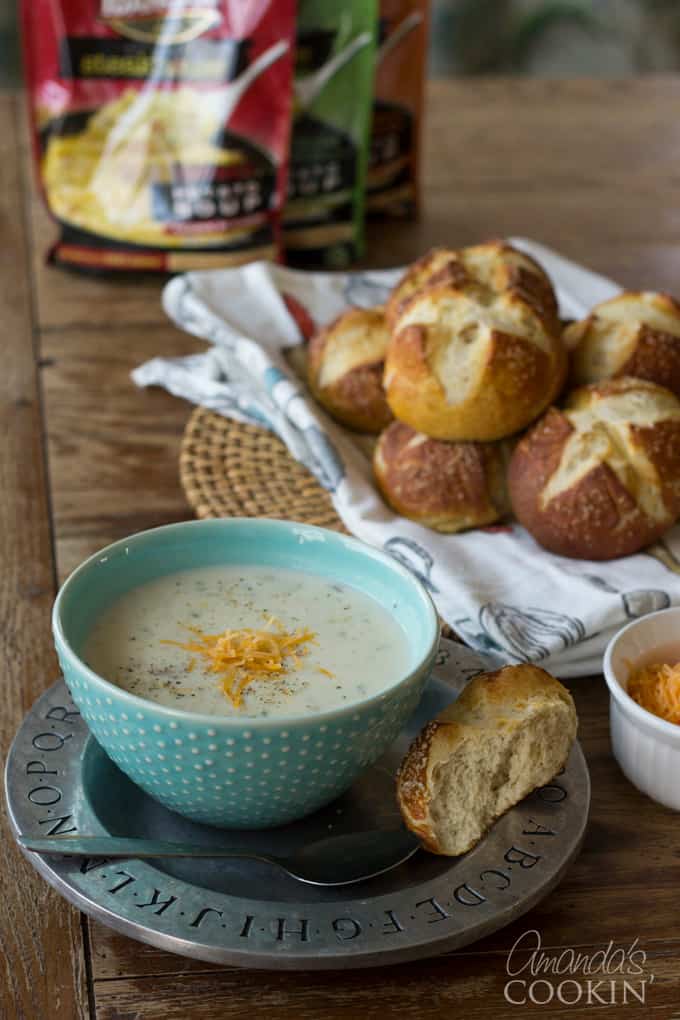 You can recreate the steakhouse experience at home. In fact, I recently read that almost 80% of Americans, including over 90% of parents, wish it were easier to recreate a steakhouse experience at home. It's not hard, and it doesn't have to be expensive either. Perfect for snowy nights when you just don't want to hit the roads, or for special occasions such as birthdays, anniversaries and holidays like Valentine's Day.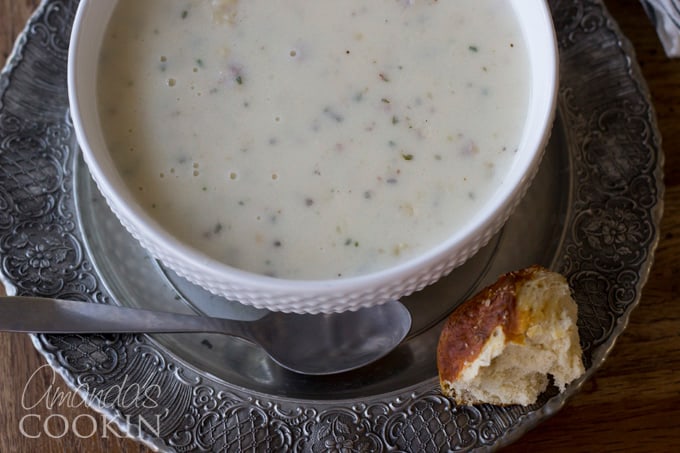 A couple of years ago my oldest son told me about Idahoan mashed potatoes. I tried them and haven't made mashed potatoes from scratch since then. They are my go-to mashed potatoes now! So when I found out about Idahoan® Premium Steakhouse® Potato Soups, I couldn't wait to try them and incorporate them into my steakhouse experience. They are available in four delicious flavor varieties: Creamy Potato, Loaded Potato, Cheddar Broccoli and Three Cheese Chipotle.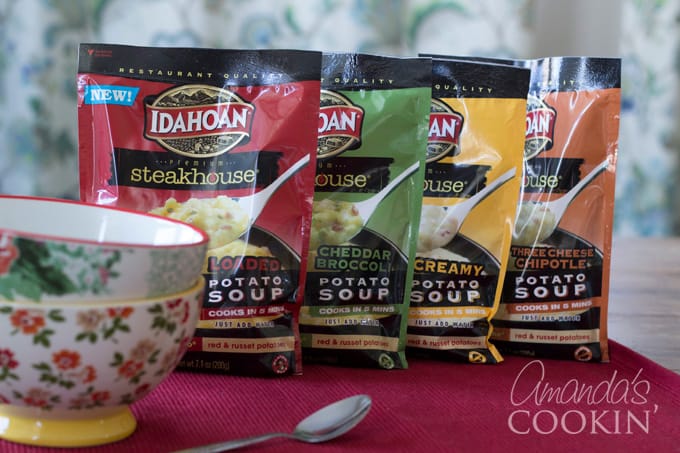 Tips for Shopping
Look for Idahoan® Premium Steakhouse® Potato Soups, they should be less than $3.00 per package
Pick a garnish for your soup such as crumbled bacon, chopped fresh chives, croutons or shredded cheese
Make sure you have what you need to make homemade Bretzel Rolls, don't forget the yeast
Check for sales on beef steaks such as rib-eye, a nice sirloin cut or a tender filet
Be sure to pick up large baking potatoes and any toppings you enjoy, such as sweet cream butter and sour cream
If you're looking for a cocktail to serve with dinner, check the ingredients for this Blackberry Gin Martini, fresh or frozen blackberries can be used
Do you have coffee or coffee beans for your French press? Check for cream and sugar as well.
Something to keep in mind when planning your meal is that the Idahoan® Premium Steakhouse® Potato Soups only take 5 minutes to cook. Really! You may have tried other dried soups that can take 15 minutes or more, but I promise that's not the case with these. So you can concentrate on preparing the rest of the meal and making the soup will be a snap. if you garnish with bacon, you'll spend more time cooking that than you will the soup!
The homemade Bretzel rolls can be made early in the day. You can wrap them in foil and reheat them in a 350 F oven just before serving.
Make sure you start your baked potatoes or twice baked potatoes about 90 minutes before serving.
Start the soup at the same time as you start the steak.
Once steak is cooked, allow it to rest for at least 5 minutes under tented foil. Soup can be kept warm while steak is resting.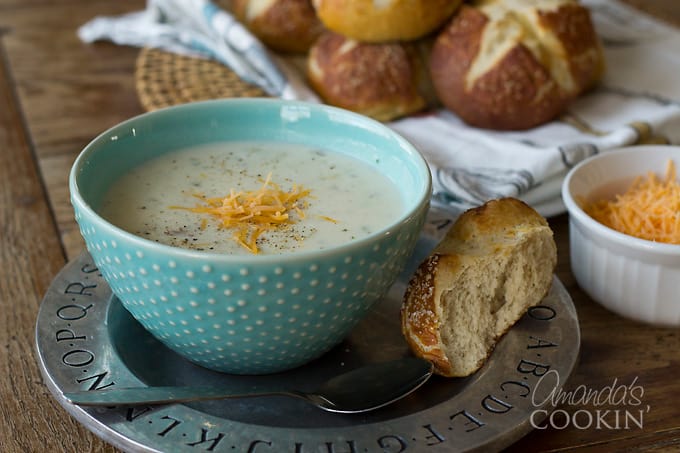 Hosting your own steakhouse meal is a delicious way to celebrate a promotion or welcome someone home that you've been missing. Now if you'll excuse me, I need to hit the grocery store again. ;)
Visit Idahoan® Foods on Facebook, Twitter – @idahoanfoods, on Pinterest and on Instagram – @idahoanfoods. You can also check out the hashtag #IdahoanSteakhouseSoups on your favorite social media platform.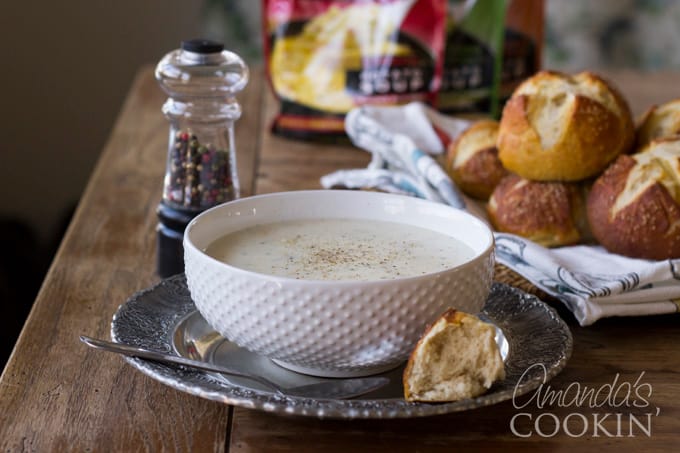 Amanda Formaro is the crafty, entrepreneurial mother of four grown children. She loves to bake, cook, make kid's crafts and create decorative items for her home. She is a crafting expert and guru in the kitchen and has appeared online and in print publications many times over the years. She is also a craft book author five times over and product developer as well as the owner of
FunFamilyCrafts.com
. You can find her on social media by using the buttons to the left!
Latest posts by Amanda Formaro (see all)