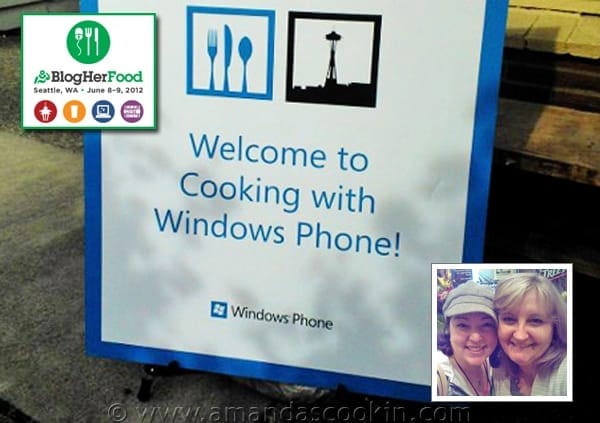 I actually had no plans to attend BlogHer Food in Seattle this year as it just wasn't in the budget. However, as fate would have it, on May 15th Microsoft invited me to attend the conference and try out Windows Phone at the same time. So this trip was absolutely made possible by the fine and generous folks at Microsoft and Windows Phone and I can't thank them enough for the opportunity! It was so fabulous to attend the great sessions, see the fine city of Seattle and reconnect with many blogger friends I've been working with for quite some time.
Just an FYI. I took my camera with me but didn't pull it out of the bag once. All the pictures in this post were taken on my Windows Phone! 
I'm a little tweaked at my actual camera. I just spent 12 minutes recording a demonstration video showing you all of my favorite functions of this phone and got a file error. Grr! So I'll tell you instead. :) First I'll tell you about the phone, then you can read and see pictures of BlogHer Food below that! :)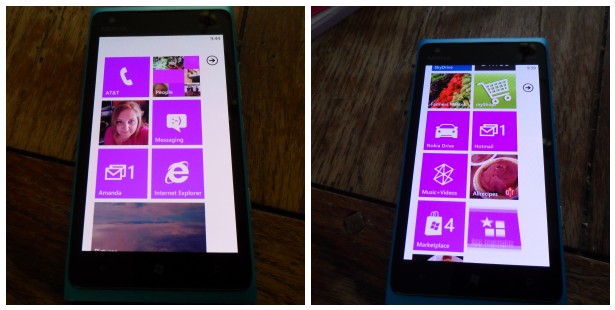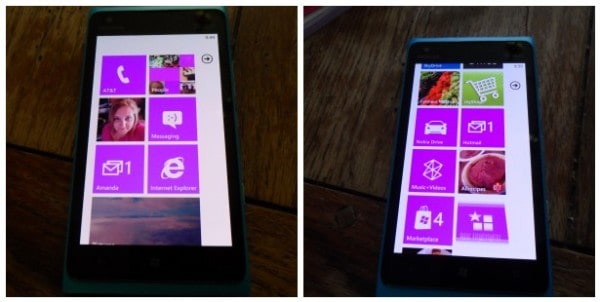 Some of my favorite functions of this phone are the quick access to Facebook and Twitter through the Me Tile and Social Network Tile. The "Me Tile" allows me to check in, post a status update, see my notifications and more, all at a quick glance.
I love that I can pin things to my start screen from almost anywhere in the phone. Just push and hold and select pin to start. Of course there's email, a web browser, a Facebook and twitter app for more in depth social networking, and making a phone call and texting are simple. Just tap the tile. The 3 dots at the bottom will display options.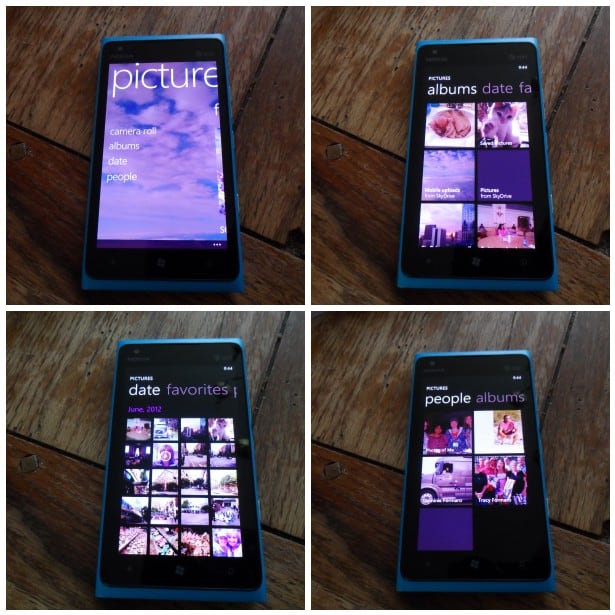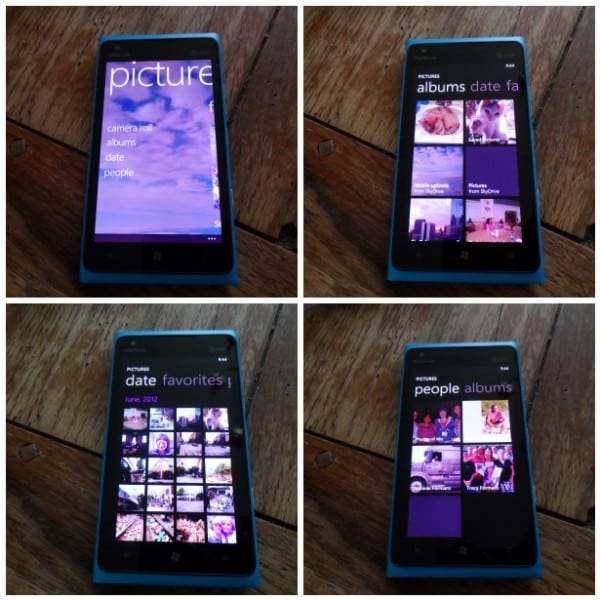 Pictures are viewable via your camera roll and shows everything I have taken with the phone. The albums allow me to see all of my albums from my phone, Facebook and Sky Drive, can be sorted by date, and you can select favorites for easy access. You can also have albums of Facebook friends. So if you want to keep up on close friends or family members' albums, just search out their name and add them! It all syncs in.
Some cool cooking and food apps include: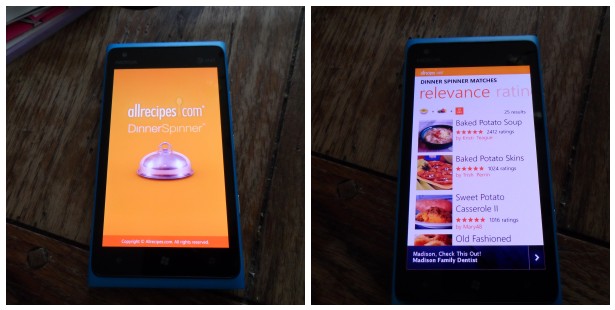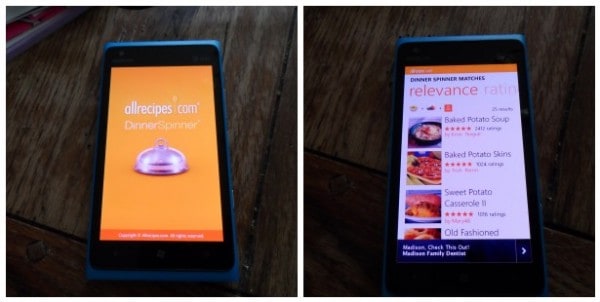 Recipes – I love how I can easily search recipes, or use the All Recipes app, which has Dinner Spinner, similar to a slot machine, to find recipes. I can pin the recipe to my start menu for super fast access, no more searching. It has a "disable screen lock" function in settings so your recipe remains visible while in the kitchen! Other recipes apps includes Epicurious, Betty Crocker, and more.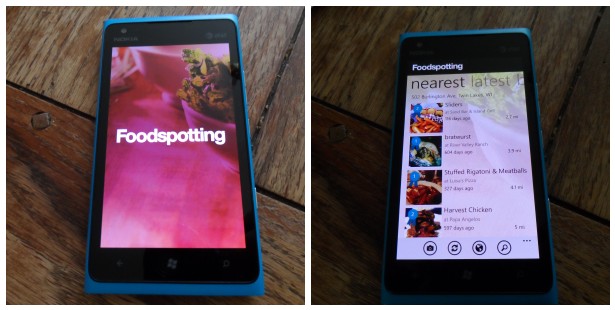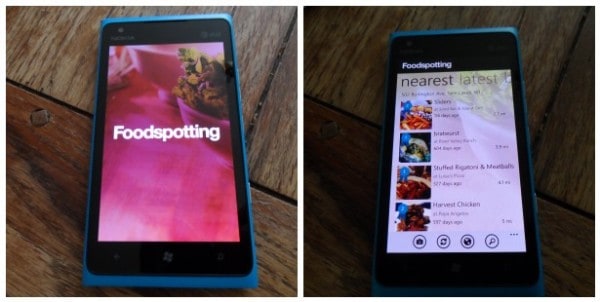 Foodspotting – This app allows you to see photos and reviews of food from users like you from area restaurants based off of your current GPS location. You can also photograph food from a local restaurant and upload yours too!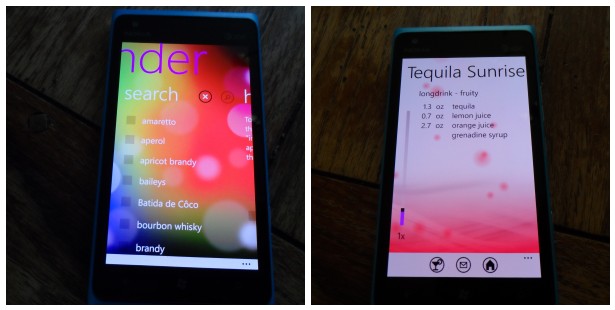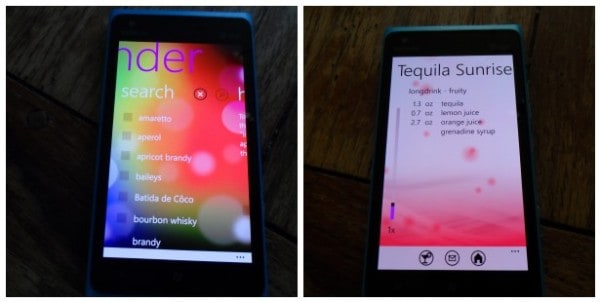 Bartender – If you like making cocktails, this app will allow you to find drink recipes quickly and easily!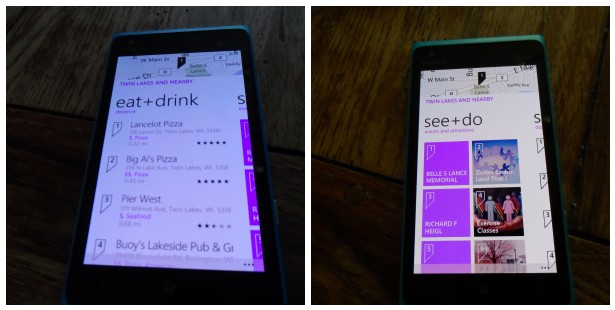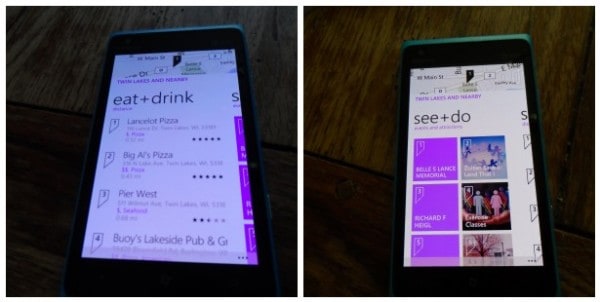 Local Scout – helps you find restaurants and entertainment in your area, community events, and even shops. Once you select a location, you can see their address, phone #, as well as their website address.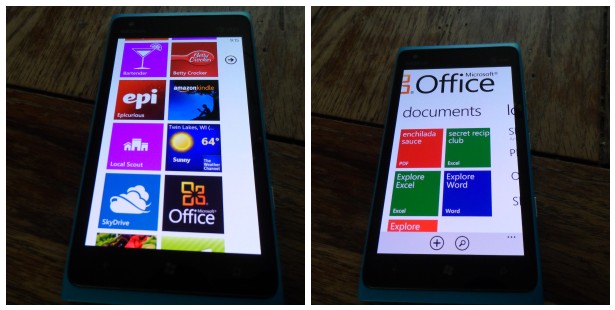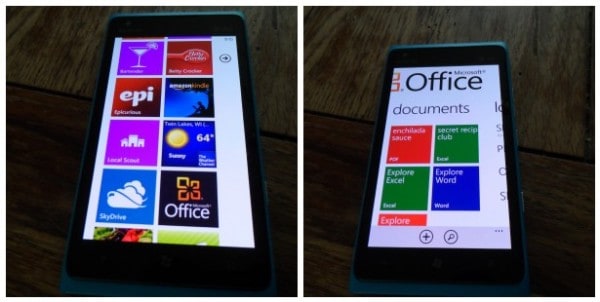 Microsoft Office – add files from your computer by logging in to live.com and uploading PDFs, Word docs, Excel, etc. Then you can open them on your phone wherever you are! Edit, save, etc.
I'm truly enjoying this phone far more than my Android. So easy to get around and I'm highly impressed with its speed. My family has Windows Phone envy, so I guess I know what they'll be upgrading to when their time comes!
BlogHer Food
I arrived Thursday afternoon and attended the Cooking With Windows Phone event at Lark Restaurant, hosted by Microsoft and Chef John Sundstrom. After those fabulous festivities, it was off to the ZipList party hosted by Maria and Lori. Up bright and early Friday morning, it was time to attend the conference. This year BlogHer Food was held at the Fairmont Olympic Hotel, a beautiful venue indeed, filled with great sessions and lots of bloggers networking their lips off. :)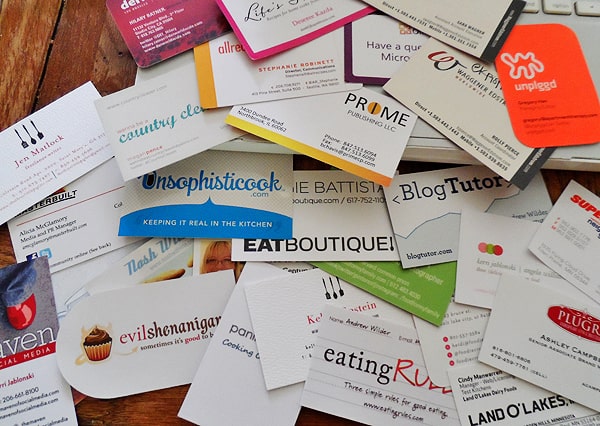 I can't wait to go through all of the business cards I collected!
I don't know about you, but I love "small plates", meaning just enough of something to enjoy it, but not enough for a meal. That way you can sample a little bit of everything. There was definitely lots of that here.
My favorite part of attending any sort of blogger event is meeting long time blogger buds and seeing ones you've met before. On the left is Peabody of Culinary Concoctions by Peabody. I could talk with her for hours, we have so much in common! Next is Maria of Two Peas and Their Pod and her beautiful baby, Caleb. I've had the pleasure of meeting both Peabody and Maria a couple of years ago at this Sam's Club event. In the center shot is Joelen from What's Cookin' Chicago? As it turns out, Joelen and I live closer than we thought and will be seeing more of each other for sure! Next is a group shot and on the left is the super sweet Jessica of The Jey of Cooking, who also lives fairly close! Lastly is the ever sharing Jaden of Steamy Kitchen with Caleb. There were a LOT more friends around, but I was having far too much fun and neglected to get pictures of everyone I connected with! :-/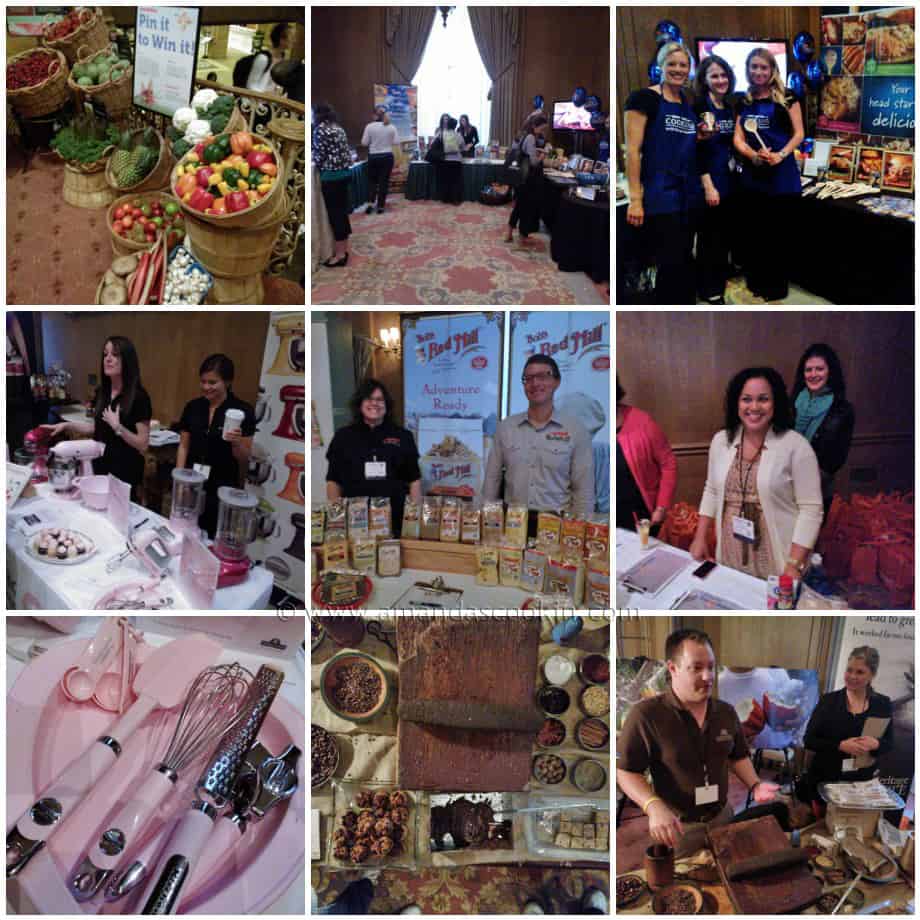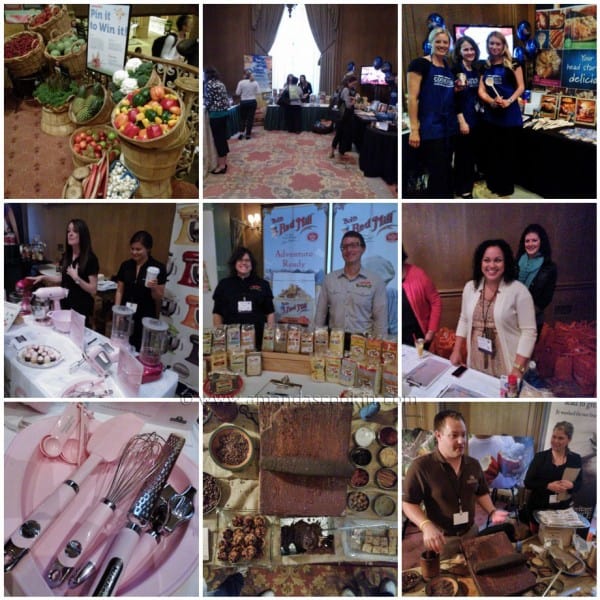 The conference of course could not be made possible if it weren't for the sponsors. There were all sorts of fabulous take aways, demonstrations, goodie bags and coupons being handed out. Thank you to all of the sponsors for making BlogHer Food possible. Just a few pictured here are Supervalu Foods, Progresso, KitchenAid, Bob's Red Mill, All Recipes, American Heritage Chocolate and of course, my sponsor, Microsoft.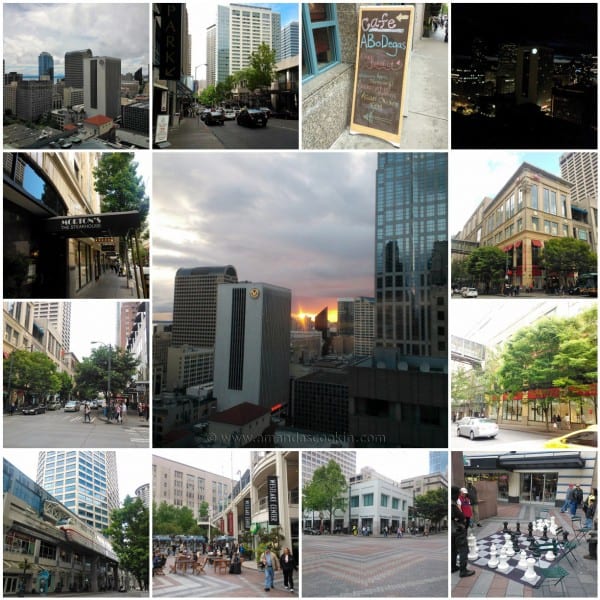 There wasn't a lot of time for site seeing, but I did manage to break away during lunch and walk a few blocks around the city. It's really quite beautiful and I wish I had had more time to explore!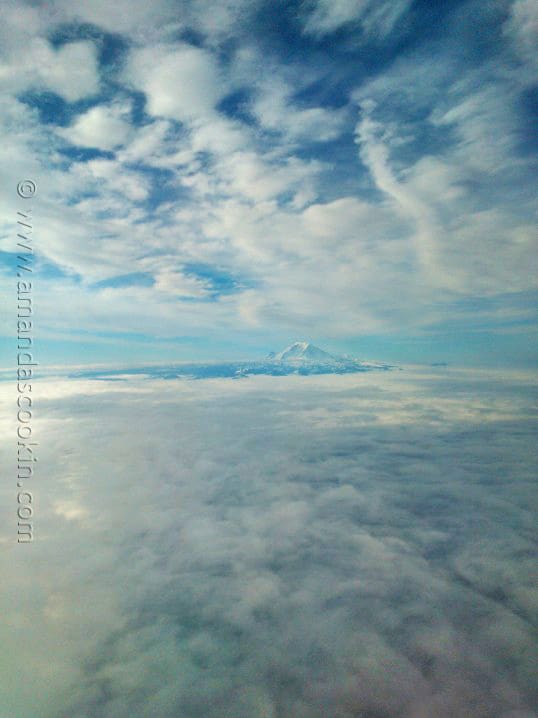 Before I knew it, it was time to head home. On the way out I saw this breathtaking view of Mount Rainier.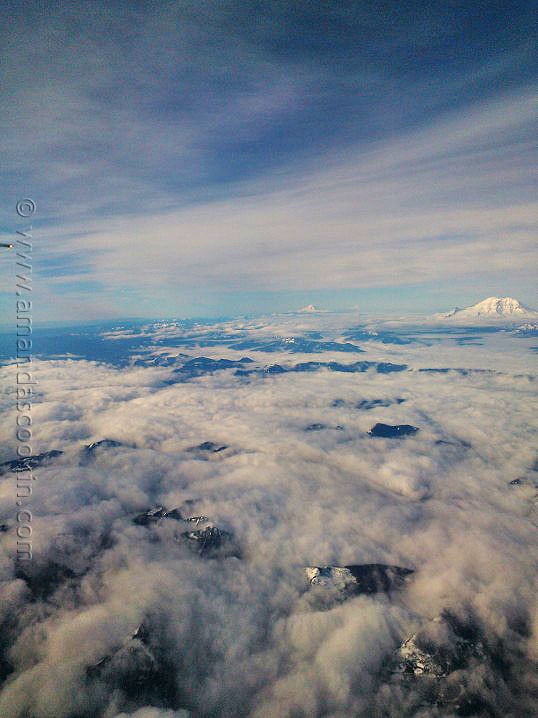 This one has Mount St. Helens and Mount Hood.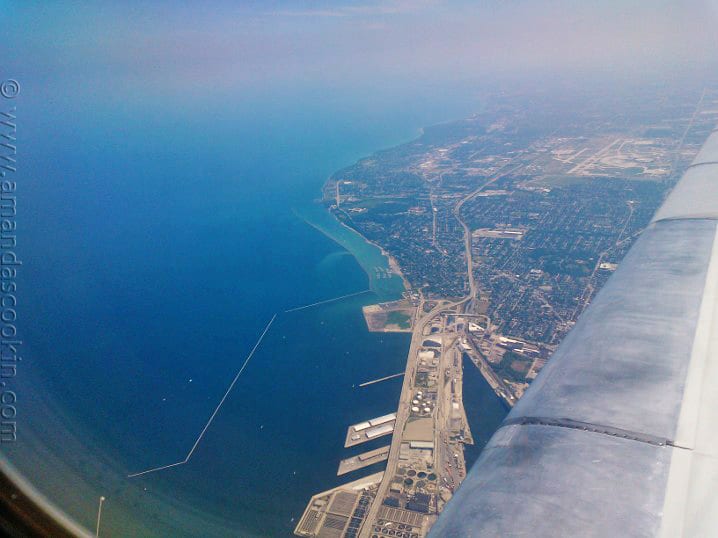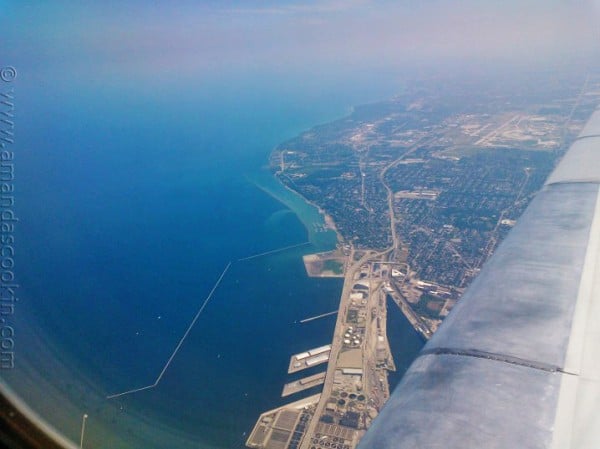 Exhausted and happy, we circled out over Lake Michigan…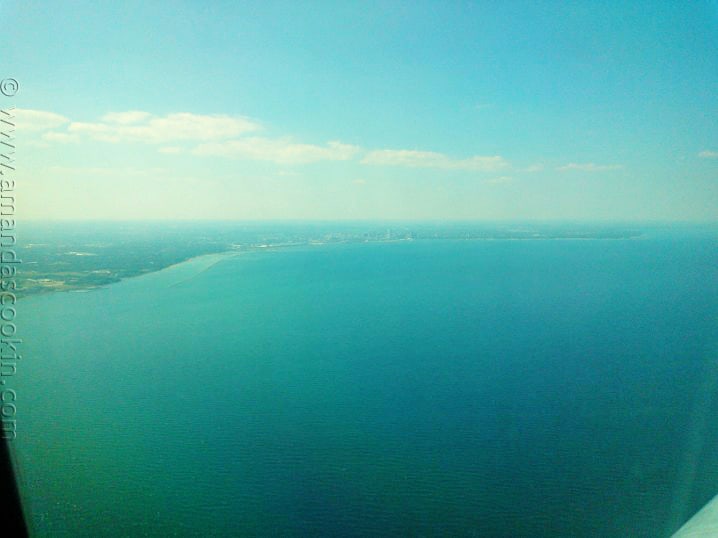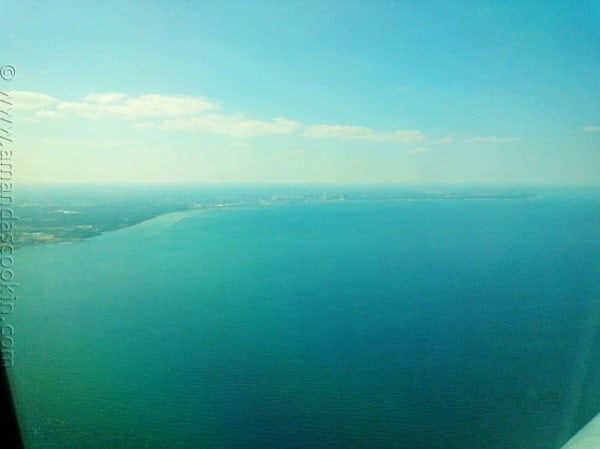 and into Milwaukee. One more hour in the car and I was greeted with smiles and hugs from my beautiful family. It was so great to attend BlogHer Food '12 and I couldn't be more grateful to Windows Phone, but it was even better being back home with the ones I love.
Disclaimer: Microsoft sponsored my travel expenses and provided me with a Nokia Lumia 900 with Windows Phone. However, all opinions written here are 100% genuine and completely mine.
Amanda Formaro is the crafty, entrepreneurial mother of four grown children. She loves to bake, cook, make kid's crafts and create decorative items for her home. She is a crafting expert and guru in the kitchen and has appeared online and in print publications many times over the years. She is also a craft book author five times over and product developer as well as the owner of
FunFamilyCrafts.com
. You can find her on social media by using the buttons to the left!
Latest posts by Amanda Formaro (see all)