This is a very fun post for me. :) I have a ton of recipe print outs, bookmarks, cookbooks and magazines. The other day I picked a few different pies and cakes and asked my daughter to pick which one I should make. She chose a recipe from an old Taste of Home magazine called Cappuccino Chocolate Pie. Well, that particular recipe used chocolate chips, corn syrup, a packaged graham cracker crust, Cool Whip and two boxes in vanilla pudding. While I'm sure it would have been tasty, I opted to revamp this recipe and make it my own by using more ingredients from scratch.
I'm branching out more and more now, making recipes my own, and like with my Chocolate Dappled Pumpkin Cake, I changed the original recipe so much that this pie is a whole new recipe of its own now.
My first challenge was to find something that could replace the boxed pudding. I found several different vanilla pudding mix recipes, but none of them were "instant". So I had to change the list of ingredients to compensate for that. The remaining substitutions were fairly easy… semi sweet chocolate instead of chocolate chips, butter in place of corn syrup, whipping cream instead of Cool Whip, and a homemade crust instead of a ready made one.
NOTE: In this recipe I refer to "homemade pudding mix", which I list below. I have also done the math so that you don't have to make an entire batch of pudding mix like I did, you can use the measurements for one serving. I have not tried this pie using the smaller measurements, but I can't imagine there would be any problem with it.
This pie is good (if I do say so myself). It passed the "daughter test" with flying colors. She loved it, a big thumbs up. :) I highly recommend keeping this pie refrigerated, but bringing it out about an hour before serving to make it easier to slice as the chocolate layer gets rather firm in the fridge.
NOTE 2: I noticed that my crust crumbled a little, but that was when I tried to cut the pie when it was still cold. So be sure to wait until the pie has been sitting at room temp for a while before trying to slice.
And my last comment: I used more coffee than the original recipe did, so I felt a more appropriate name would include the word "espresso" rather than "cappuccino". ;)
Amanda's Espresso Chocolate Pie
recipe by me! ;)
* to replace the 1 cup of pudding mix in the pie recipe, combine 6 tablespoons of dry milk powder, 1/2 cup of granulated sugar, 1/8 teaspoon salt, and 6 tablespoons of cornstarch. Run through a food processor.

** instant coffee comes in crystals. Place the crystals in a sandwich bag, squeeze the air out and seal it, and roll the jar over the bag grinding them up. You can also grind it with a mortar and pestle. One tablespoon of crystals will yield about half of a tablespoon of ground instant coffee.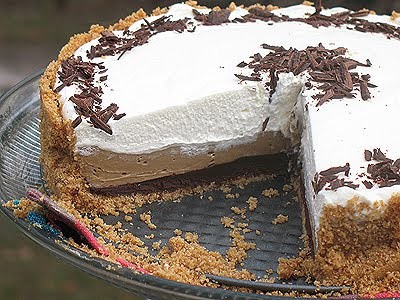 Ingredients
Crust
1 3/4

cups

graham cracker crumbs

24 squares

3

tablespoons

sugar

pinch

of salt

1/2

stick

4 tablespoons unsalted butter, melted and cooled slightly
Chocolate Ganache Layer
6

oz

semisweet chocolate

coarsely chopped

1

tablespoon

unsalted butter

1/3

cup

whipping cream

1/2

teaspoon

vanilla
Whipped Cream Layer
2

cups

cold whipping cream

2

tablespoons

powdered sugar

1

teaspoon

clear vanilla

regular will work!
Espresso Layer
4

ounces

cream cheese

softened

1 1/2

cups

milk

3

tablespoons

brewed coffee

1

cup

homemade vanilla pudding mix

see recipe below*

2

tablespoons

of ground instant coffee**

1

teaspoon

vanilla

1

egg

whipped until thick and pale

chocolate curls for garnish

optional
Homemade Vanilla Pudding Mix
3

cups

instant nonfat dry milk

4

cups

granulated sugar

1

teaspoon

salt

3

cups

cornstarch
Instructions
Crust
Stir together the graham cracker crumbs, sugar and salt. Add the graham cracker mixture to the melted butter, using your fingers to combine until evenly moistened. Pat crumb mixture into bottom of springform pan and an halfway up the sides. Place pan on a cookie sheet and bake in preheated oven for 10 minutes. Set crust aside to cool while you make the pie filling.
Ganache
Place chopped chocolate and butter in a double boiler, or in a glass or metal bowl over simmering water, and stir occasionally as it begins to melt. Once chocolate is almost melted, slowly add the cream and vanilla. Stir over heat until smooth and completely melted. Poor ganache into the crust and spread evenly. Set aside.
Whipped Cream
Stir the clear vanilla into the whipping cream. Sift the powdered sugar over the whipping cream mixture and, using the whisk attachment, beat on medium high until stiff peaks form. Reserve 1 1/2 cups for the filling and refrigerate the rest until needed.
Filling
Beat cream cheese in mixer with paddle attachment until smooth. Gradually add the milk and brewed coffee, scraping down sides of bowl occasionally. Turn off mixer and use whisk to combine smaller pieces of cream cheese with the milk. Whisk together the pudding mix and ground instant coffee then whisk into the milk mixture. Whisk in 1 1/2 cups of the whipped cream into the milk mixture. Pour filling mixture into a medium saucepan. Turn flame on medium low and slowly add the whipped egg, whisking in as you cook. Mixture will thicken quickly, so whisk continuously until you have a very thick custard. Do not allow mixture to stick to the bottom of the pan. Remove from heat. Whisk the pudding in the pan, then run it through strainer into a bowl. Place a layer of plastic wrap directly onto the pudding so that a skin does not form. Refrigerate the pudding for about half an hour to cool. When cool, whisk again to make pudding smooth and pour into pie shell on top of ganache. Top with whipped cream.

Refrigerate pie for at least 4 hours (overnight is best) to allow filling to set. To serve, remove pie from the refrigerate about an hour before serving to make it easier to slice.
Homemade Vanilla Pudding
Combine milk, sugar, salt and cornstarch in a food processor and process until uniform. You may need to do this in 2-3 batches. Store mix in airtight canister or a closely covered jar.

To use: Stir the mix in the canister before measuring out 1/2 cup mix into a pan. Add 2 cups milk AND 1 teaspoon of vanilla and cook over low heat, stirring until mixture thickens and comes to a boil. Continue stirring for 1 minute, remove from heat and pour into individual serving dishes. Pudding will thicken further as it cools.
---
Did you enjoy this post? Why not subscribe to my feed, or better yet, to my free newsletter – Foodie in the Craftroom, which provides not only recipes but crafts from my other blog, Crafts by Amanda too!
---
Amanda Formaro is the crafty, entrepreneurial mother of four grown children. She loves to bake, cook, make kid's crafts and create decorative items for her home. She is a crafting expert and guru in the kitchen and has appeared online and in print publications many times over the years. She is also a craft book author five times over and product developer as well as the owner of
FunFamilyCrafts.com
. You can find her on social media by using the buttons to the left!
Latest posts by Amanda Formaro (see all)