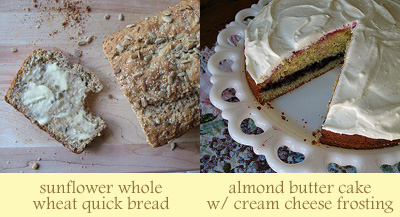 I vowed to buy the book, but time gets away from us all and the idea was postponed temporarily. Then one day I received an email from Tate's Bake Shop asking if I wanted to try their cookie gift packs and receive a copy of their cookbook. Ummm, yeah! I was really excited to receive my own copy, and the best part is, I get to give one away to one lucky Amanda's Cookin' reader as well!
Now I would have taken a picture of the gift pack I received, but I'm afraid they were devoured before I had a chance! They were very tasty and buttery. Mmmm!
The prize pack includes a gift-pack of cookies including oatmeal raisin, white chocolate macadamia nut, and chocolate chip, as well as a copy of the Tate's Bake Shop Cookbook!
Giveaway details: Giveaway only open to U.S. residents. Giveaway ends on December 15th, 2010 at midnight CST. You can earn up to a total of 3 entries, but you must leave a separate comment for each one! To enter do one or more of the following:
1) Leave a comment on this post telling me your favorite thing to bake
2) Become a fan of Tate's on Facebook
3) Become a fan of Amanda's Cookin' on Facebook
15% discount available to Amanda's Cookin' readers:
As a bonus for Amanda's Cookin' readers Tate's is offering a 15% discount valid through December 31st, 2010. So be sure to check out all the great gift ideas available before Christmas gets here!
(If you enjoyed this post, I'd truly appreciate a stumble, Digg, facebook share, whatever you like! :) )